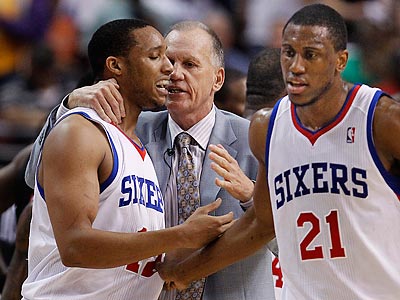 Despite the win yesterday, I still don't think the Sixers are going to come back and win the series over the Miami Heat, but the win on Sunday will help to speed up the maturing process for their young players. Yesterday's win showed them that they can play on the big stage against the "Big Dogs" and get the job done.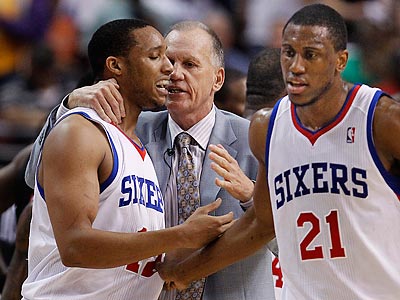 This series has been great for twenty-year old point guard Jrue Holiday. He's getting a taste of what it takes to win in the NBA playoffs. The competition is tougher. The points are harder to come by. You can't take you foot off the gas for a split-second or you lose. He's going to be tougher for it.
He only scored 10 points in the game and dished out 5 assists, but the youngster stuck a huge three-pointer with 47 seconds to play on the clock. This put the Sixers within range of getting the win.
This kid isn't phased by the magnitude of the game. He will take the shots with the game on the line, which is a must for a big-time point guard. Holiday is getting schooled by the Heat's trapping defense and how it's important that he keeps his dribble and doesn't let them force him to dribble into the sideline and turn his back to the court. That's when the turnovers happen.
Who would have thought that rookie Evan Turner would make such a huge contribution? He came off the bench to share the role as the team's leading scorer. He scored 17 points with seven rebounds Even though it has been a disappointing rookie season for Turner, he showed that he's not afraid of the bright lights.
This is good news because many times players can perform during regular season games, but they can't get it done during the playoffs. Maybe Turner is a player, who can't get it done during the regular season but he can make it happen in the playoffs.
Seriously, Turner will be able to build upon this next season. He's got a lot of improvement to make, if he's going to live up to where he was drafted. The memories of making big shots in a big game against LeBron James and Dwyane Wade will help him take his game to the next level.
Thaddeus Young will be able to learn from seeing his game go south the last few games after starting off strong in the series. He needs to come through with a big game in Game Five on Wednesday night.