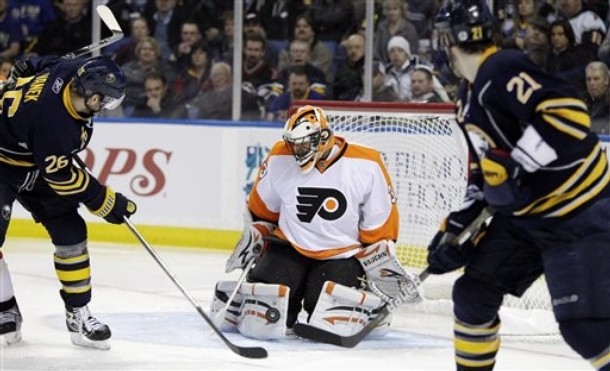 What was Peter Laviolette thinking? Down 3-2 in the series with the Boston Bruins, Laviolette found himself faced with another decision to make about who his starting goalie would be after Brian Boucher struggled in Game 5.
Laviolette's choice was between Boucher and Michael Leighton. On the surface, it wouldn't seem like a tough choice to make. Yes, Boucher let up two horrendous goals in Game 5, but he had just come off of three straight solid performances in Games 2,3, and 4.
Laviolette chose to ignore those facts, and instead opted to start Leighton, who had only seen action in two games at the NHL level all season. Leighton's start was a disaster. He allowed three soft goals in the first period, and Laviolette had no choice but to turn things back over to Boucher.
What could Laviolette have possibly seen in Leighton's effort in Game 5 to think that he was worthy of starting over Boucher in Game 6? Leighton wasn't tested heavily at any point in Game 5; the Flyers carried play for the majority of the game after Boucher was pulled. Laviolette must have liked something he saw in overtime when Leighton let up a big rebound that led to the game-winning goal. There was no logic in the switch from Boucher to Leighton.
It's one thing for Laviolette to have Leighton on the bench as the primary backup over Sergei Bobrovsky. If something were to happen
to Boucher, Leighton's experience in the playoffs last season might make him a more viable option than Bobrovsky at this point. But to start Leighton over Boucher was just absurd.
Laviolette has been great during his time in Philadelphia. More often than not, he has known how to make the right choice on tough decisions, but he made an uncharacteristically terrible decision to start Leighton in Game 6. It almost cost the Flyers their season.
Boucher has been one of the biggest reasons that the Flyers have won three games in the series. He came out with a bad effort in Game 5, but Boucher had more than earned the right to redeem himself as a starter in Game 6. Boucher has been a good soldier, and a loyal teammate all season, and Laviolette should have reciprocated that loyalty going into Game 6.
Luckily for Laviolette, Boucher didn't hang his head after his coach gave him a vote of no confidence. He kept himself mentally prepared, and turned in another solid performance when called upon. Boucher made 24 saves, only allowing one goal in relief of Leighton.