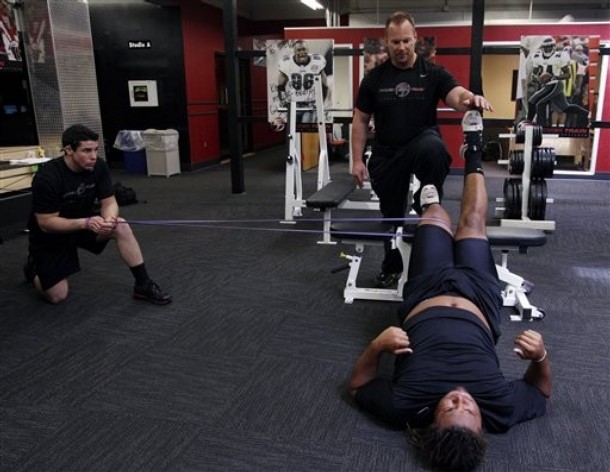 The Hip Hop music was loud and the sound was bumping against the walls in Steve Saunders' Power Train facility in Cherry Hill, New Jersey. First of all it was Little Wayne kicking it with "Duggle Bag Boy". Next up was Youngbludz doing "Damn" featuring Lil John and Eastside Boyz. I found out with this app I have on my I-Phone.
This has become the Eagles Nova Care Complex this offseason. It's late morning and you have Winston Justice, Jamaal Jackson and Trevor Laws all in the midst of a heavy lifting workout.
Saunders has taken over as the strength and conditioning trainer for the team. There's no question that he's spending more time with the players than Andy Reid and his staff and Reid is probably not disappointed that it's working out that way. At least he knows his football team will show up in shape and ready to go.
The trainer has worked with Steelers All-Pro James Harrison for the last few years and he swears by Saunders. I can tell that he makes an individual workout for each player. He works on what they've got to do at their position and he believes in having the linemen and linebackers working with heavy weights.
You can tell by what he's got Harrison squatting with in that pictures. Saunders will help you get stronger, if you do what he tells you to do.
It seems that every day an Eagles player or two is added to the list of player working out at Power Train. Eagles quarterback Michael
Vick was part of the group, but center Jamaal Jackson gave him a call and talked Vick into working out at the facility. Vick is planning on starting some passing workouts later this week or next.
Wide receiver Jeremy Maclin has started working out there as well and he's been bringing along his college friend, Atlanta linebacker Sean Weatherspoon.
Eagles Pro Bowl kicker David Akers worked out in the morning at Power Train.
I ran into middle linebacker Jamar Chaney in the facility last week when I stopped through. Backup linebacker Omar Gaither has worked out in there on and off. There's a picture of him in there.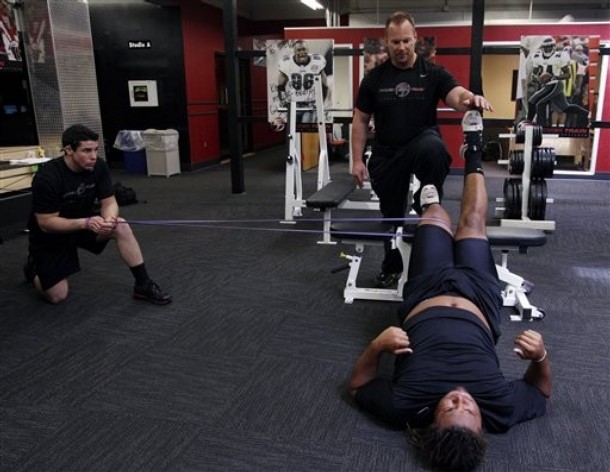 Backup quarterback Mike Kafka was in there working out today.
When I was pulling off, I spotted Eagles tight end Brent Celek pulling up for his workout. Celek had told me a month ago about how much he liked working out there and how Saunders had helped him get stronger. Veteran defensive end Juqua Parker has been working with Power Train for a number years as well and he too raves about how they help him get stronger.
Last week I saw defensive end Victor Abiamiri in there working out hard. If only the work out can keep him healthy because this will probably be his last shot here in Philadelphia. If he gets hurt again, the Eagles will likely say good-bye.
Celek's buddy and business partner, Todd Herremans, works out at Power Train as well. Herremans has been working out there for a couple years, now.
Justice is noticeably bigger in his upper body now than he was during the season. He had told me before the offseason started that he was going do everything he could do to get better. The right tackle said he knew he needed to get better and was going to get serious about doing it.
He was pushing through a bench press workout, doing some heavy sets of 300 and 400 pound sets. He said he still can't run because of the knee surgery he underwent, so he's able to put in plenty of time getting stronger in his upper body.
The Eagles number 74 says he's rehabbing his knee in the morning and working hard to get stronger later in the day with Saunders at the Cherry Hill location. He does a Yoga workout after getting in his work at Power Train. He feels the stretching he does at the Yoga class is good for his knee.
Saunders worked with Phillies veteran outfielder Raul Ibanez this past off season and worked to get his body balanced and strong. Ibanez is trying to keep his strength and extend his career.