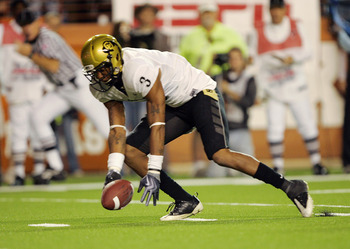 We started talking about the 44 draft prospects which the Eagles have taken second looks at prior to Thursday's draft. We listed the first 22 yesterday. Today we will go through the second 22 prospects, which the Eagles spent extra time working out or bringing in for a closer check.
Tomorrow we will look closely at the players I think will be selected by the Eagles on Thursday.
23. Jeremy Kerley-WR (TCU): Kerley's return ability is likely what has the Eagles attention.
24. Kory Lindsey-CB (Southern Illinois): Hamstring pulls in two different Pro Days hurt Lindsey draft stock. He'll probably be available in the 5th round.
25. Greg Little-WR (UNC): Although he was suspended for the 2010 season, the former running back is expected to be a Day 2 selection.
26. Jake Locker-QB (Washington): I predict the team the Eagles trade their No. 23 pick to will select Locker there.
27. Brian Maddox- RB (South Carolina): Maddox likely was looked at by the Eagles as a fullback. He probably will have to wait for a new CBA to be signed as an undrafted rookie.
28. Curtis Marsh-CB (Utah State): A former running back, Marsh didn't become a full time starter until last season. He has good size (6'0", 194), but he's still learning the position.
29. Casey Matthews-LB (Oregon): Casey is as athletic as his brother Clay, but his instincts make up for that.
30. Deron Mayo-LB (Old Dominion): The younger brother of Patriot Pro Bowler Jerod Mayo, Deron is likely to enter the NFL as an undrafted rookie.
31. Greg McElroy-QB (Alabama): McElroy is a proven winner, getting national championships in high school and college. In order to win in the NFL, he needs to be on a team that likes to run the ball. Philly isn't a good fit.
32. Adrian Moten- LB (Maryland): Moten is another guy who could end up an Eagle, but only if he's available in the 7th round and Homan was already taken.
33. DeMarco Murray-RB (Oklahoma): The Eagles have spent a lot of time looking at running backs projected to go on Day 2. If they select one I'll be surprised.
34. Stephen Paea-DT (Oregon St.): I'm a bit skeptical about the Eagles taking and defensive tackles in the first two rounds which is where Paea will be selected.
35. Zack Pianalto-TE (North Carolina): Pianalto's injury history will likely keep him from being drafted.
36. Brian Rolle-LB (Ohio St.): The fact that the Eagles worked out a 5'10" linebacker was enough to irritate fans. Some pro scouts feel he might have to play safety.
37. Caleb Schlauderaff-OL (Utah): Schlauderaff is wishing for a new CBA soon because he likely won't be drafted.
38. Jimmy Smith-CB (Colorado): When you read the scouting reports and the comparisons to Nnamdi Asomugha and Darrell Revis, one would think there's no way the Eagles don't make a huge effort to draft Smith. Don't hold your breath. Trading down and selecting Curtis Brown is more likely.
39. Tyrod Taylor-QB (Virginia Tech): With the success Reid has had with Donovan McNabb and Michael Vick, did anybody really think the Eagles wouldn't workout Taylor?
40. Daniel Thomas-RB (Kansas St.): Thomas could fit in the Eagles' scheme. My problem with him is 24 is a bit old to start out at a position where you decline rapidly after 30.
41. Demarcus Van Dyke-CB (Miami): Excuse me for not being excited over a 6'1", 176 lb corner. A 4.33 forty means nothing if you're only going to get ran over.
42. Muhammad Wilkerson-DT (Temple): With no limit on scouting local prospects, the Eagles had to check out Wilkerson. He'll be gone in the 1st round to another team, though.
43. Lawrence Wilson-LB (UConn): Wilson's scouting report has on of Reid's favorite clichés: High Motor. In the right system he could be a starting WILL.
44. T.J. Yates-QB (UNC): Yates led the Tarheels to an 8-5 record and a Music City Bowl win despite multiple suspensions and injuries to the team. That says a lot about his character.