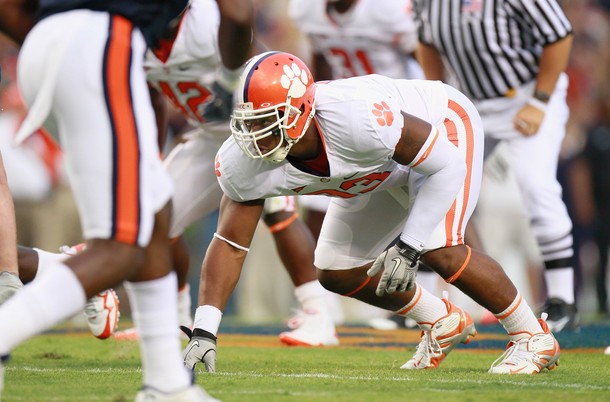 Here's an article that just went up on Rotoworld.com: "NFL Network's Albert Breer has spoken with one team in the top half of the draft that has taken Da'Quan Bowers off its board completely. The team's doctors failed Bowers. Speculation around the league is that
Bowers will be a "one-contract" player due to long-term concerns about his knee. The Bucs at 20 are a popular mock choice, though GM Mark Dominik has hinted that the Patriots are a team to watch. Per Fox Sports' Jay Glazer, Bowers' knee condition is "bone-on-bone."
Think about. Da'Quan Bowers is the same defensive end who many scouts had rated as the number one defensive end in the draft and to many he was all considered the number one draft pick. Much has changed since then and much of it has to do with Bowers and his injured knee.
The talented defensive end underwent arthroscopic surgery on his knee just before the NFL Combine, so he was able to workout with all the other top players. It also meant he would need to workout for the NFL scouts shortly after his surgery. The workout didn't go
well and neither did the examination of his knee by a number of NFL team doctors.
That all brings us to a chance that tonight Bowers falls in the draft to 20th or later. Could the Eagles possibly go after him?
Ray Didinger of CSNPhilly.com just penned an article about his belief that the Eagles might move up and grab Clemson's Da'Quan Bowers, if he starts to drop into the teens. He could be right, but it all depends on how the Eagles rate Bowers and how they feel
about the health of his knee. I think it would be a great move by the Eagles because Bowers was considered a special player at the end of the college season.
Would you the Eagles be willing to draft a guy in the first round who will give them four years of a great pass rush and then retire? I say yes. Andy Reid knows that he's not going to be here past four years, so why not go for a championship with a guy who could dominate.
The Eagles drafted Florida tight end Cornelius Ingram, who had failed a number of physicals because of his knee. The only difference is that Ingram was drafted in the fifth round, whereas Bowers would have to be acquired with a number one pick. That's a big difference, but if Bowers is as good as they say, he would be worth the move.