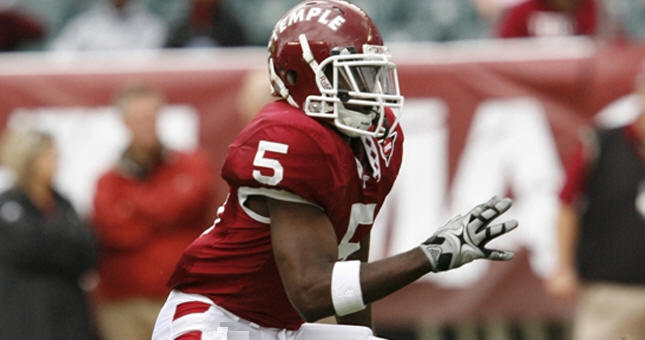 I think this young man could be a good player, but the Eagles could have drafted Temple safety Jaiquawn Jarrett in the 3rd or 4th round. I know they need a safety, but they drafted this youngster much sooner than they had to.
I think the reason they took him so early is because this draft if very short when it comes to safeties.
Jarrett has a reputation of hitting people but he's not a speedster. He ran a 4.65 in the forty-yard dash, which isn't a good time for a safety, but he supposedly plays faster than he times out.
He's not the biggest of safeties either. The youngster stands 6′ and he weighs 198 pounds.
The Temple Owl safety is a very smart player, who detects routes very well and does good job of reading his keys and reacting to them.
Andy Reid and his staff will expect this young man to be ready to play next season. Last year's second round pick, Nate Allen is recovering from a knee surgery. The other safety on the roster, Kurt Coleman, played quite a bit a year ago and is likely to be one of
the starters at the safety spot.
Veteran free agent safety Quintin Mikell is not sure whether he's going to be on the Eagles roster next season. Veteran Marlon Jackson is also on the roster, but he's recovering from surgery on both knees.
The Birds obviously think a lot of Jarrett and they'd better be right because he's going to have to play in the upcoming season.
— I think the Giants are having a good draft with cornerback Prince Amukamara in the first rond and defensive tackle Marvin Austin in the second round.