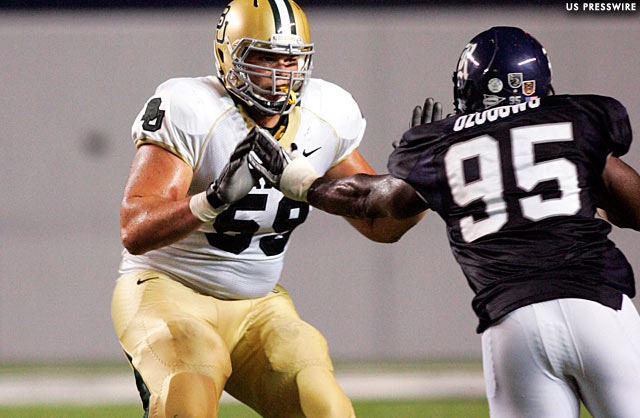 First of all, I want to let you know that I'm looking at this football team and trying to figure out what is going to make them a Super Bowl Champion. This has nothing to do with Danny Watkins, but it has everything to do with the huge holes they have on the defensive side of the ball. Remember they had THE WORST RED ZONE DEFENSE IN THE LAST 25 YEARS.
Nobody could tell me that if the Eagles had moved up and grabbed cornerback Prince Amukamara to fill that huge hole at right cornerback, that it would have put them closer to being a Super Bowl Champion as compared to drafting Watkins and that has nothing to do with Watkins, but it has a lot to do with the bad Eagles defense.
I've seen teams with mediocre guards win Super Bowls, but I haven't seen a team win a Super Bowl with a human target starting at cornerback. In addition if you don't have a pass rush, it's nearly impossible to stop teams from scoring in the red zone. They may fill those holes tonight and via free agency, but they're very urgent for a team that wants to win a Super Bowl.
I like the toughness that Watkins brings to this football team. He's a fighter and you can tell from listening to him and his firefighter friends. This is a good thing and I do think he might be able to improve the offense.
From everything I've heard from talking to reputable NFL people, Watkins should be able to a good or maybe even great NFL guard for a number of years. I've heard and seen him put the grip on defensive linemen. He's also got the ability to play multiple positions. At the Senior Bowl, he showed everybody that he can play either guard position as well as either tackle position. That's quite a bit of versatility and the Eagles need it.
But the key here is that my focus isn't on Watkins, it's on the Eagles front office. How can they dwell on age then ignore age altogether by drafting "THE OLDEST FIRST ROUND PICK IN THE HISTORY OF THE NFL? Yes, although Watkins may turn out to be a good football player, he's the oldest first round pick in the history of the NFL.
There are people who were in the same quandary when they Birds signed Michael Vick. The fans asked how could you sign this guy with the policy you've had for so many years. It was a legitimate question. How could they turn their back to players who had gotten in trouble for a minor mishap in college, but then go out and sign Vick?
I haven't heard anything bad about Watkins and I like him even more after hearing him talk and learning more about his background. The tape I've seen of him, shows a physical dominating presence, but what does that do for a defense that WAS THE WORST RED ZONE DEFENSE IN THE LAST 25 YEARS.
Their offense was one of the best in the NFL, so that's why I see a sense of urgency on the defensive side of the ball. The Eagles fired their defensive coordinator last year they didn't fire their offensive coordinator.
If the Eagles sign free agent Nmandi Asomugha when they get the chance and also find a way to improve their pass rush tonight, I'll understand why they used their first pick on an offensive guard.
If Watkins take over at right tackle, I would understand the pick, but if all he does is come in here and be a very good right guard, I don't understand the pick because I don't think it puts them closer to the Super Bowl.
Let's see what happens tonight and tomorrow. If you want to talk to me about it, Call me tonight on 610-WIP, I'll be on from 10pm to 1am.