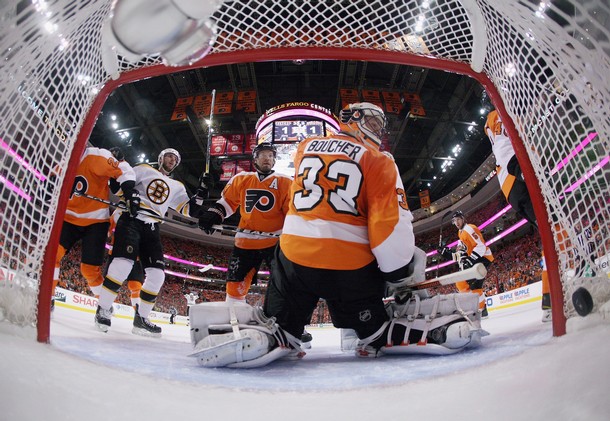 Any hope that the Flyers' strong play from Game Seven of the Stanley Cup Quarterfinals would carry over against Boston was dashed less than two minutes into Game One, as David Krejci scored on the very first shot of the game for the Bruins. The7-3 loss was not only disappointing, but just plain embarrassing.
Offensively, the Flyers were able to find ways to beat Vezina nominee Tim Thomas. James Van Riemsdyk, Danny Briere, and Mike Richards scored for the Flyers, meaning that each of the top three lines contributed. The final score would have been much tighter if Thomas hadn't stood on his head. Unfortunately, this was about the only positive today.
Defensively, the team was a complete mess. I don't know how many times I was caught screaming "cover your man," as if the team could hear me and I wasn't just aggravating the people next to me. Everyone was out of position, and the fourth line of Blair Betts-Darroll Powe-Zac Rinaldo, questionably assigned to shut down the Bruins' top line of Milan Lucic-Nathan Horton-David Krecji, couldn't handle the task.
Defensemen Matt Carle and Chris Pronger, simply put, need to play like Matt Carle and Chris Pronger, not wide-eyed rookies.
Through one game, the team +/- was a collective -26.
Neither Brian Boucher nor Sergei Bobrovsky could provide any relief from the onslaught of the black and gold. In Boucher's defense,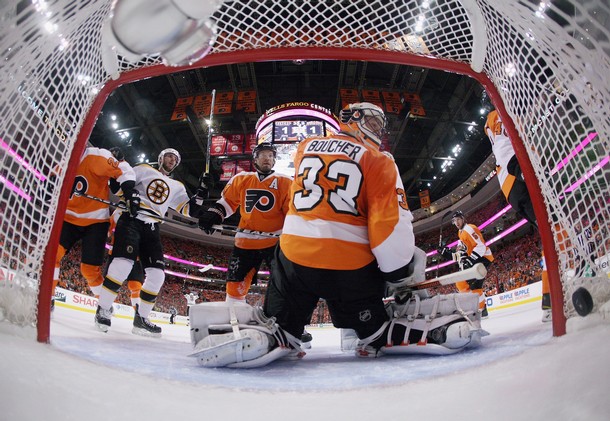 it's difficult to stop so many pucks when the opposing team is left wide open in the crease. Several goals came off re-directions through traffic as well.
The decision by the organization to boost the defense in the offseason at the expense of finding an elite goaltender only works if the defense shows up. All one can hope is that they tighten up the man coverage in Game Two, or this series could be a bloodbath.