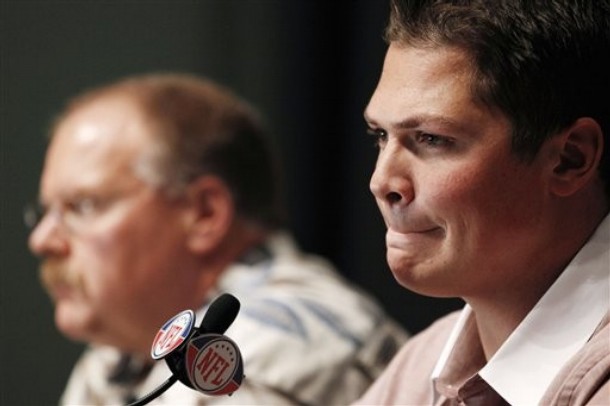 In what was a defensive end rich draft, the Philadelphia Eagles didn't draft one of them. Where is the pass rush going to come from this season with a defense that was the worst red zone defense in the NFL in the last 25 years?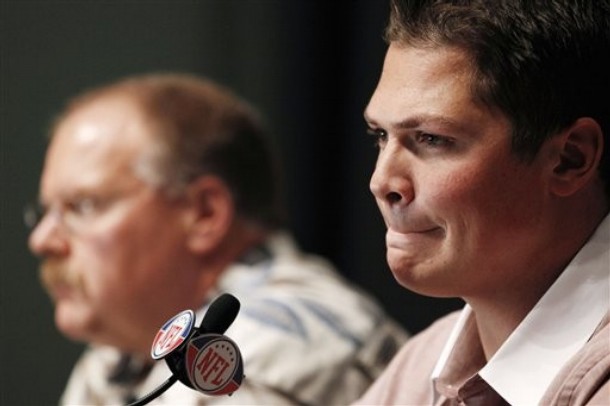 There's no way the Birds can look anybody in the face and tell them that they're sure about the talent they have on their defensive line. We know the same is true of their secondary, but they did pick a safety and a cornerback. How is that enough? Are those guys going to be impact players this year?
With all due respect, Jaiquawn Jarrett a safety from Temple and Curtis Marsh, a cornerback from Utah State aren't going to turn this defense around next season. Those linebackers they took might be good special teamers but they're not going to help play defense in 2011.
If I were the Birds I would have been moving up in this draft because they can't go into this season with the same defensive personnel which got defensive coordinator Sean McDermott fired last year.
This is why I was down on the first round draft pick. Not that I'm down on Danny Watkins because I think he's going to be a very good offensive lineman. Who knows maybe Watkins will be an All-Pro for the next seven years, but that won't help the defensive side of the ball, which was historically bad. Any time you have a unit that is historically bad (worst red zone defense in the NFL in the last 25 years) you have to address it.
The Eagles are putting a lot of pressure and responsibility on free agency, Michael Vick and the Eagles offense along with defensive coordinator Juan Castillo and new defensive line coach Jim Washburn.
First of all, I guess the Eagles are going to make some major acquisitions in free agency to help their defense because they didn't help it in a major way during this draft. Nmandi Asomugha would be an immediate answer to problems at right cornerback because I don't think Marsh is going to fill that spot in 2011.
Secondly, Vick is going to have to earn every dollar they're going to pay him because the offensive will need to outscore teams. They did address offensive line needs, so I guess they're going to expect these guys to put up 30 points a game.
Thirdly, I don't care what the new defensive line coach tells the players or how hard he pushes them, Jim Washburn isn't going to be in between the lines beating offensive lineman on his way to the quarterback when the season starts.
Veteran defensive ends Trent Cole and Juqua Parker aren't getting in younger. Last year they wore down as the season got into its second half. It's not the first time that's happened and chances are it won't be the last time.
They can't depend on any of the rookies they drafted last year to give them anything. Brandon Graham won't be ready to play when the season starts and don't even tell me about Daniel Te'o Nesheim, who looked like a little-boy out there against grown men last year. Ricky Sapp spent the entire season on Injured Reserve after showing us that he couldn't play the linebacker position.
I've been yelling in the wilderness for years about the mediocre production of the first round draft pick at the defensive tackle position. You've got to get some pass rush on every down from the defensive tackles. Antonio Dixon is the best tackle on the team and he was discarded by the Redskins as a free agent. We used first round picks on guys like Mike Patterson and Brodrick Bunkley who produce one and two sacks a season.
When asked about the defensive line, head coach Andy Reid talked about expecting a big difference from moving the defensive ends a yard or two outside in their defensive alignment. With all due respect, that can't pass the smell test.
I would have loved it, if the Eagles could swap their first and second round picks in the draft with the Giants who landed cornerback Prince Amukamara and defensive tackle Marvin Austin.
The Green Bay Packers showed us last year that you win with studs on defense, not duds.