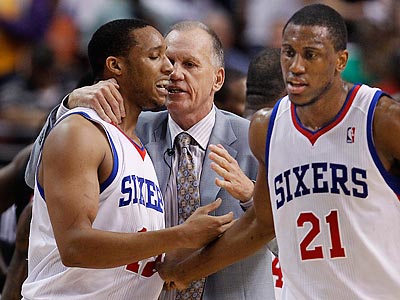 Of course the Sixers are in the off season, having fallen 4-1 to the Miami Heat in the first round of the NBA Playoffs. This relatively young team has learned some tough lessons that will benefit from them later in their careers.
The one constant that rookie Evan Turner and second year point guard Jrue Holiday have had is the tutelege of first-year head coach Doug Collins. I'll be the first to say that I wasn't on board with the hiring of Collins largely because of his time away from the coaching scene, it's one thing to be an in-game analyst and another to coach these players. Collins ability to teach the finer points of the game to his younger players has been invaluable. Holiday, Turner, Jodie Meeks and Thaddeus Young are getting lessons on the fly from someone that has been in their position before and knows how to get through it.
From a strategic standpoint – Collins best decision was to allow Lou Williams to play the role of a scorer. From the time Williams was drafted everyone from Larry Brown to Eddie Jordan has tried to make Lou a point guard, Lou has proven that when turned loose he can be one of the game's most effective reserves. Same can be said for Thaddeus Young who was placed in and out of the starting lineup for most of his time in the league. Collins came in, gave Thad a role, and he has played it to the max. Young is the Sixers do-everything reserve as he brings energy from both ends of the floor.
When it comes to floor leadership, Collins has entrusted the younger players to Andre Iguodala and Elton Brand. When the game is on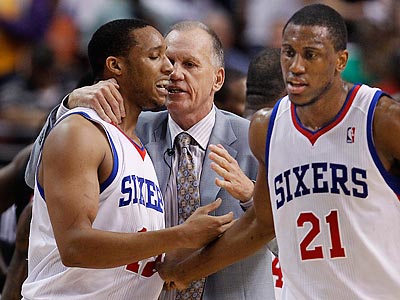 the line, Collins has insisted the ball be in the hands of Iguodala. I can't say that I agree with this and I feel that this has cost the Sixers at least three games that I can count this season. When it comes to Iggy, I feel that Collins is going out of his way to coddle him. And if you have to coddle a player making $85 million something's wrong with that picture.
Elton Brand has endeared himself to Collins through playing selflessly and leading by example. Playing on a broken hand for the past month Brand has brought a genuine work ethic to a young Sixer team in need of lockerroom leaders. Brand was a perfect fit for the job. Not a rah-rah guy and not to much in-your-face either, pretty much the type of person that when he speaks – people listen.
The odds on favorite for NBA Coach of the Year may be Chicago's Tom Thibodeau, whose Bulls won 62 games. Not denying that fact but he walked into a situation with a team that was well on it's way to being a top 4 team in the Easten Conference. If I had to give it
to someone other than Collins, it would be Portland's Nate McMillian. After losing Greg Oden for the season and Brandon Roy for a lengthy stretch the Blazers were able to go 8-4 in February and 10-6 in March to get back into the playoff chase. They were able to finish sixth in the Western Conference.
Call me biased, but looking at where the Sixers were last season – Collins managed to win 14 more games with essentially the same roster.He got the most out of Evan Turner, who played below expectations and helped develop and find key roles for players like Meeks, Williams and Young. I think Collins deserves major consideration for NBA Coach of the Year.