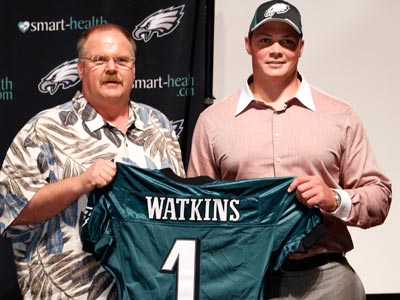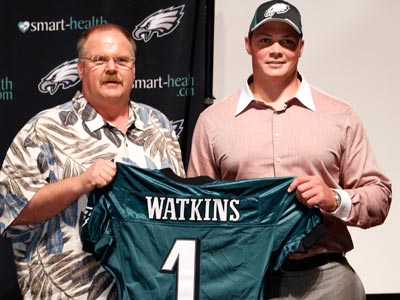 "It's not a finished product," Eagles head coach Andy Reid said after completing the seventh round of the 2011 NFL draft. That statement is one of the reasons which I have a positive take on this draft the Eagles. I see quite a few reasons to be excited about the selections and I'm confident that the Eagles still have part of the hand free agency and trades to make.
1. Drafts aren't meant to complete a team. Drafts are for building a team. The majority of the people drafted this year were selected to be backups and depth, nothing more.
2. No draft should be evaluated for years. For all we know… Jarrett is the second coming of Brian Dawkins, or Marcell Dareus is a huge bust. Be patient.
3. The defense can, and should be, addressed in free agency. This team would look a hell of a lot nicer right now with an NFL ready young right guard in Danny Watkins, plus the new acquisitions of guys like cornerback Nmandi Asomugha, linebacker Chad Greenway or linebacker Paul Posluszny, and some soon-to-be-named DE to be traded for.
4. As un-sexy as it was right guard was a need. Now, the offensive line may be sured up. This was important because the best thing about this team is its ability to outscore the Giants and Cowboys. We just helped Michael Vick and made his job somewhat easier.
5. I personally like Jaiquawn Jarrett, the safety from Temple, Dion Lewis, the back from Pittsburgh, and Casey Matthews, the linebacker from Oregeon. Those picks alone made the Eagles draft a positive.