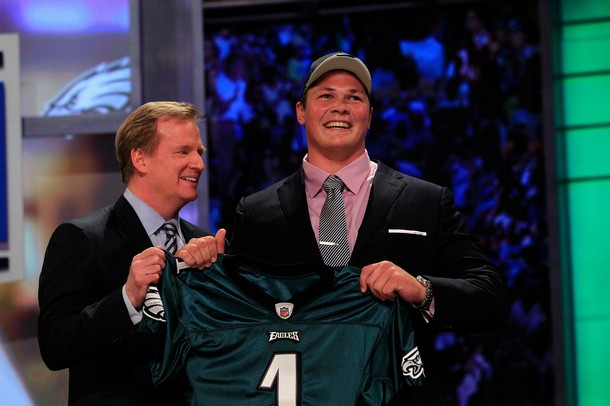 The 2011 Draft has come and gone. Unfortunately, nobody knows for sure when the next time there will be consistent talk regarding the NFL.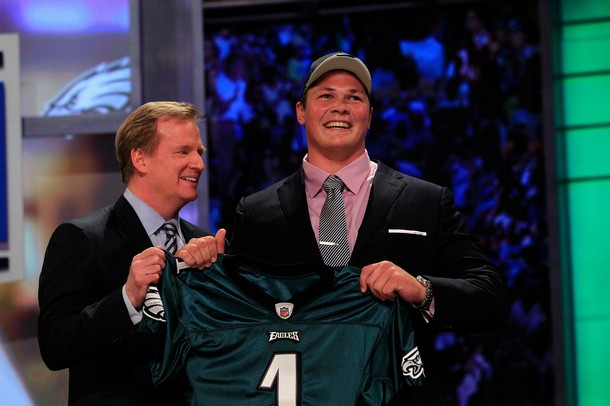 The 8th U.S. Court of Appeals could reinstate the Judge Susan Nelson's injunction by tomorrow. They also could also issue a permanent stay, causing the lockout to last possibly another two months.
Due to the labor issues delaying the beginning of the 2011 NFL league year, the Philadelphia Eagles were unable to trade away Kevin Kolb and the chance of Andy Reid drafting cornerbacks Patrick Peterson or Prince Amukamara.
As a matter of fact, because players under contract could not be traded over the weekend the number of NFL draft day trades dropped drastically from 34 in 2010 to 22 this year.
Regardless of when a new CBA is reached and normalcy is returned to the NFL, decision makers in the 32 war rooms had to make do with what they could control.
At the NovaCare Complex, the Eagles started with 10 draft picks. After four trades, they selected 11 players and added a fourth round selection for 2012 (from Baltimore).
How did the Philly do?? Of course, it'll take a few years to really know. But, initially, let's look at the Eagles 2011 Draftees…..
1. 1st round (No.23) Danny Watkins-OG (Baylor): The Eagles top priority is protecting Michael Vick now that he is the face of this franchise. The offensive line's weakest link was right guard and Watkins could probably start from Day 1. The concern about him is he's 26, but that's the only real negative for possibly the best guard available. If Watkins was 22 he'd probably have been a top 15 pick.
2. 2nd round (No.54) Jaiquawn Jarrett-S (Temple): Jarrett was considered a 3rd or 4th round pick by many scouting reports so he must have really been impressive his workout at the NovaCare Complex. He's known for playing the run well, so he should form a good tandem with a ball hawk like Nate Allen.
3. 3rd round (No. 90) Curtis Marsh-CB (Utah St.): The Eagles definitely need a cornerback, but don't expect Marsh to be starting across from Asante Samuel next season. The former running back has a lot of upside, but will need a lot of coaching to reach his potential.
4. 4th round (No. 116) Casey Matthews-LB (Oregon): Casey is not as athletic as last season's Defensive Player of the Year runner up Clay. He makes up for it with a strong work ethic and a high football IQ. Anyone who watched the BCS Championship knows he can play.
5. 4th round (No. 120) Alex Henery-K (Nebraska): Drafting a kicker in the fourth round is equivalent to a quarterback going No. 1 overall. The Eagles know they have to eventually replace David Akers and might as well do it with the most accurate kicker in NCAA history. Henery also punted as a Cornhusker so he could possibly be Sav Rocca's replacement along with Akers.
6. 5th round (No. 149) Dion Lewis-RB (Pittsburgh): Lewis should be an excellent compliment to the guy he replaced at Pitt, LeSean McCoy. He has great vision and help with the passing game. Look for him to be used on 3rd downs.
7. 5th round (No. 161) Julian Vandervelde-OG (Iowa): Vandervelde was a Hawkeye teammate of defensive coordinator Juan Castillo's son, Greg. He started at both left and right guard and has the potential to be a competent backup.
8. 6th round (No. 191) Jason Kelce-C (Cincinnati): At 6'3, 282 lbs Kelce is a bit undersized, but is known for his footwork and toughness. The Eagles track record for draft picks from Cincinnatti (Trent Cole and Brent Celek) isn't too shabby.
9. 6th round (No. 193)Brian Rolle-LB (Ohio St.): Rolle makes up for his size (5'10", 230 lbs) with his athleticism. The Eagles could use him as a passing down LB or have him play safety. Either way, look for Rolle to be very effective on special teams.
10. 7th round (No. 237) Greg Lloyd-LB (Connecticut): The Eagles used their first compensatory pick on the son of former Pittsburgh Steeler Greg Lloyd, St. His draft stock likely dropped because he didn't fully recover from a December 2009 ACL injury as of yet.
Case11. Stanley Havili- RB (USC): Havili should fit well in the Eagles offense due his ability in the passing game. He quite possibly could be used as the third halfback.
Overall, if I had to grade this draft I'd give the Eagles a B+. They didn't draft a stud expected to be a rookie Pro Bowler. But, they addressed multiple needs.
In the first two rounds, Reid selected guys who'll likely start as rookies. The rest of the draft addressed much needed depth and special teams.
This offseason is far from over. When the new league year begins the Eagles will be in good position to make a lot of noise in free agency.