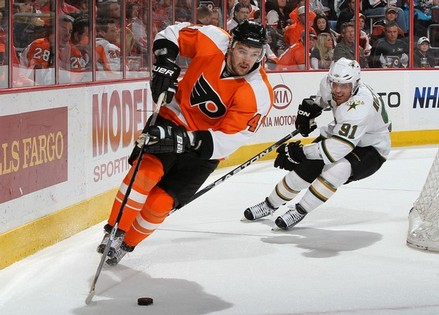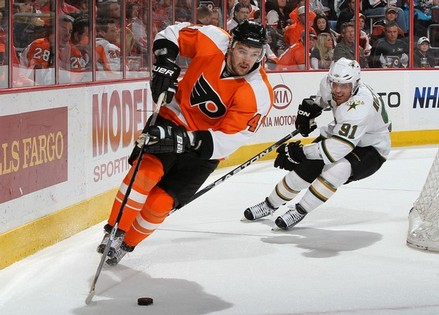 The focus of the 2010 offseason for the Philadelphia Flyers was improving the fifth and sixth defensemen positions after it became clear that Lukas Krajicek and Ryan Parent weren't getting it done. With the focus this year on goaltending, the defense is unlikely to experience a major shake-up unless the organization does some salary cap reshuffling.
Chris Pronger was sorely needed in the playoffs, but a rash of injuries kept him out of the second round. It's disconcerting that he has six more years on his contract and his body isn't holding itself together the way it used to. Pronger had a discectomy this past week to repair a herniated disc in his spine to wrap up the "year from hell" as he put it.
Kimmo Timonen has two more years left on his contract, at which point he is expected to retire. Timonen is one of the most underrated defensemen in the League and isn't going anywhere.
The upside of Braydon Coburn (26), Andrej Meszaros (26), and Matt Carle (27) are that they are young, competent top four defensemen. It's a good core of players to build off of when Timonen retires. The downside is that they each command a high salary ($3.2, $4.0, and $3.4 million, respectively).
Of the three, Carle struggled the most visibly during the playoffs. In all fairness, the entire team save for a handful of players struggled, but Carle's turnovers were frustrating to watch. General manager Paul Holmgren has suggested that he has no plans to move anyone, but he said the same thing about Ryan Parent last year.
Should the Flyers move one of them, there are a number of unrestricted free agents available that are viable fill-ins. None of them are as young or have as much offensive upside as Carle, but several have the experience and leadership that could serve the team well. In particular, Brent Sopel, Hal Gill, and Steve Montador come to mind as good defensemen with manageable salaries.
The organization is waiting to figure out how the salary cap shuffling plays out in their search for a goaltender before committing to Sean O'Donnell for another year. O'Donnell was solid as Meszaros' partner and helped spread the minutes among the rest of the defensemen.
Reporters asked Holmgren if Erik Gustafsson would get an opportunity to fight for the sixth spot if O'Donnell wasn't re-signed, but Holmgren was quick to point out that the team still has Oskars Bartulis. Bartulis suffered a shoulder injury during the year thanks to former Flyer Scottie Upshall, but is still highly regarded by the team.
I don't believe anyone remembers that Matt Walker still has two years left on his contract, but expect him to stay buried with the Adirondack Phantoms due to his cap hit. I also would be surprised if Danny Syvret was re-signed. Laviolette had very little confidence in him during the 2011 playoffs and the organization has already let him go once before.