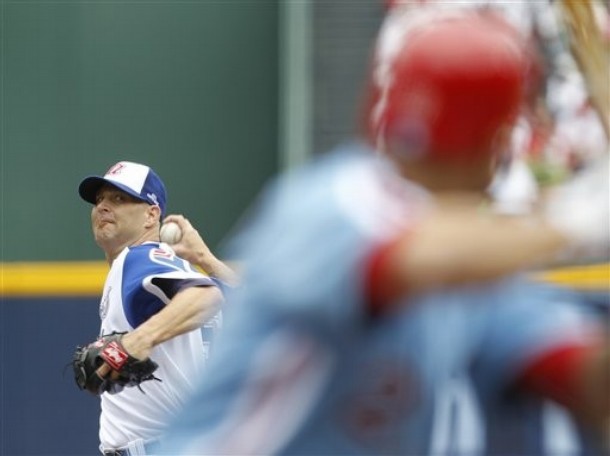 Phillies ace Roy Halladay gave up only three runs yesterday and that was too much because the Phils scored only two runs. Despite a complete game he picked up the 3-2 loss. The Phils have had trouble scoring runs this year and it's bothering Phillies manager Charlie Manuel.
In the first 39 games of the season, the Phillies have scored 3 or fewer runs 20 times. Yes, that's over 50% of the time and it's not good enough. So Manuel didn't have a problem with letting his ballclub know that he's looking elsewhere for players who will get some hits.
"We're gonna find some hitting. We'll get somebody," Manuel said after Sunday's game. "We'll find people. We'll gawdamn look until we find somebody. Seriously. That's how I look at it. We'll keep experimenting until we get people."
The two runs the Phils scored yesterday were supplied by outfielder John Mayberry, who hit a two-run homer. Manuel singled out Mayberry's performance while saying that guys who produce will get more playing time, but guys who don't produce will be replaced.
"He played good today. He stole a bag. He hit a homer. [Walked twice.] Made a helluva catch in rightfield," Manuel said. "I've always had in my mind to get him some playing time. The better he does, the more playing time he'll get. That's what happened with Werth and Howard and Victorino. That's how they became regulars for us. You play good enough, you can win a job. You can move anybody."