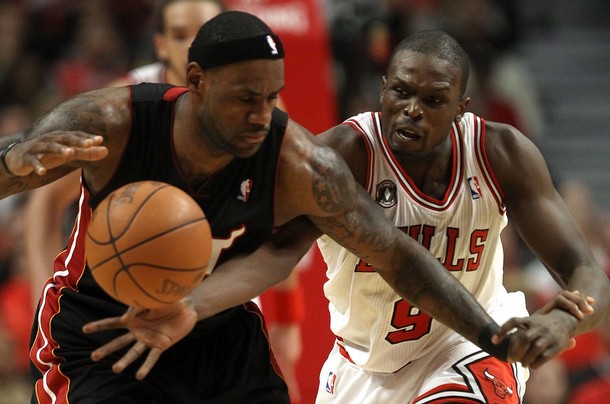 Forward Luol Dang knew he needed to step up in his battle against one of the NBA's best players, LeBron James, did just that last night in leading the Chicago to a, 103-82 runaway victory. They were tied at halftime but the Bulls blew the Heat off the court in the second half.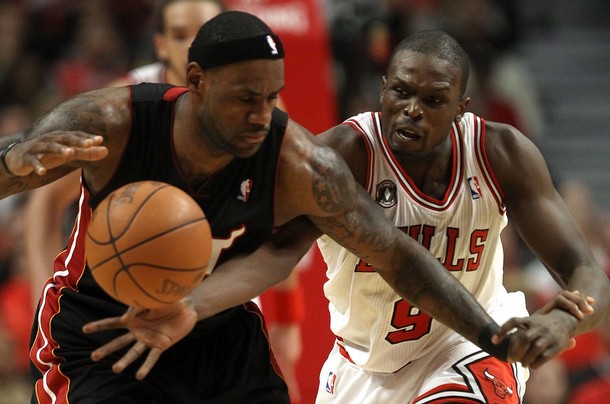 James came into this series with the bulls eye on him because of his off season decision to go to Miami and his teary-eyed celebration after eliminating Boston. He must find a way to help the Heat recover immediately or he's going to have trouble living this down.
It was Game one of this best of seven Eastern Conference Championship series and it wasn't close. Miami has its work cut out for them against a Chicago team which seemed to be too big, too deep and too strong for the Heat. That beat down which the Bulls put on the Heat last night exposed Miami's lack of hustle and muscle down low.
The Bulls were all over the offensive glass and they also limited the Heat to one shot on the other side of the floor, as they won the battle of the boards 45-32. Chicago's big men came in with something to prove and they made a loud statement. Carlos Boozer and Yoakim Noah worked hard to get in position for second and third shots. Noah had 14 rebounds and Boozer had 9.
The other starter in the front court, Deng, stepped up in a big way and outplayed James. He scored 21 points and held the Heat forward to 15, as Deng took it to the NBA All-Star. The Bulls forward was scorching from outside the three-point line, making 4 of 6 three-point attempts. He also grabbed seven rebounds and contributed four steals.
Thanks to Deng's defensive intensity, James never got into a rhythm to get his offensive game going, as he shot only 5 of 15 from the field and pulled down only six rebounds. I don't see any way the Heat can win this series unless James, who is 6'8″ and weighs over 270 pounds, finds a way to get to the basket.
He and Dwyane Wade were limited to shooting a lot of long jump shots. Wade scored on only 18 points as the third man of their crew, Chris Bosh, surprisingly led them in scoring with 30 points.
NBA MVP Derrick Rose had a solid game, but he didn't have to carry the offense load all by himself. The talented point guard scored 28 points and going 10 for 22 from the field. He also dished out 6 assists,