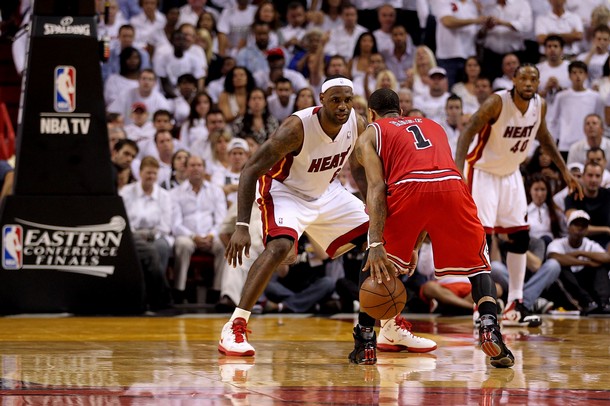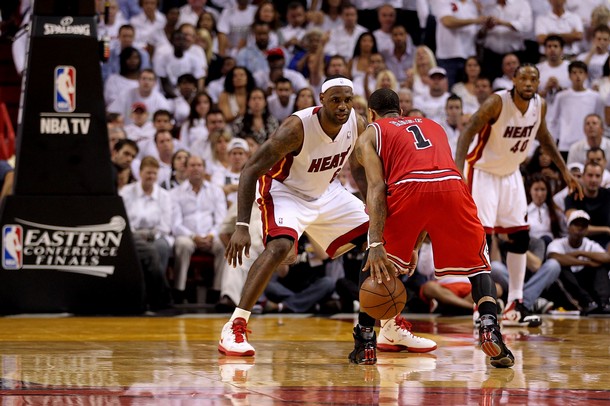 Bulls 6'4″ point guard Derrick Rose was supposed to be unstoppable. He was the league's MVP, but he was shut down by 6'8″ LeBron James at the end of last night's game.
I loved how one of the analysts had described James in the last couple of games. He said James became Magic Johnson in game three because Chris Bosh was hitting his shots. In game four, Bosh was having trouble and Dwyane Wade was completely off his game, so he became Michael Jordan and scored 35 points to lead the Heat to victory.
Seriously, he did everything but go up in the stands and sell popcorn in game number 4 of the NBA Eastern Conference Championship Series.
"It's extremely hard," Rose acknowledged, "when a 6'8″ guy can easily defend you." Rose had to settle for long jump shots rather than his dashes to the basket.
James led the team in scoring with 35 points. He grabbed six rebounds despite using so much energy blanketing Rose with the game on the line late. He dished off six assists even though his Superstar partner Dwyane Wade couldn't throw the ball in the ocean last night. James intimidated Rose by blocking a number of shots and contesting all of them down the stretch. You have to also add two steals to his stats for the game.
I must give James credit for stepping up when it has been needed. So far he's come through when the game has been on the line.
Of course his job won't be completed until Miami beats the Bulls one more time, then he finds a way to help Miami win it all the NBA Finals.
It looks like James and his Heat squad are going to meet Dirk Nowitzki and the Dallas Mavericks in what should be an outstanding NBA Finals. One of these Superstars will be able to answer the critics with an NBA Title.