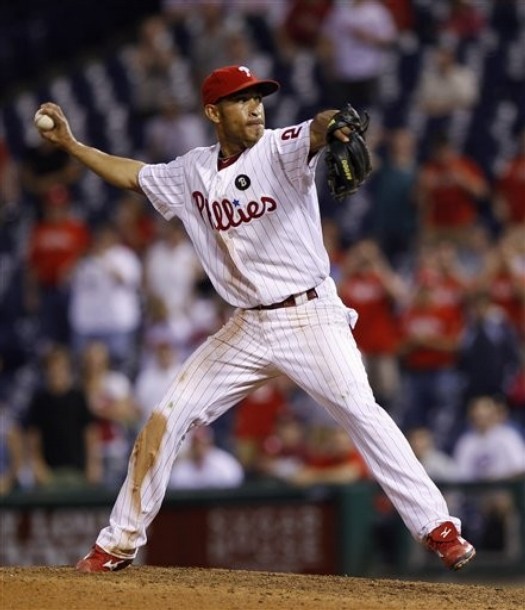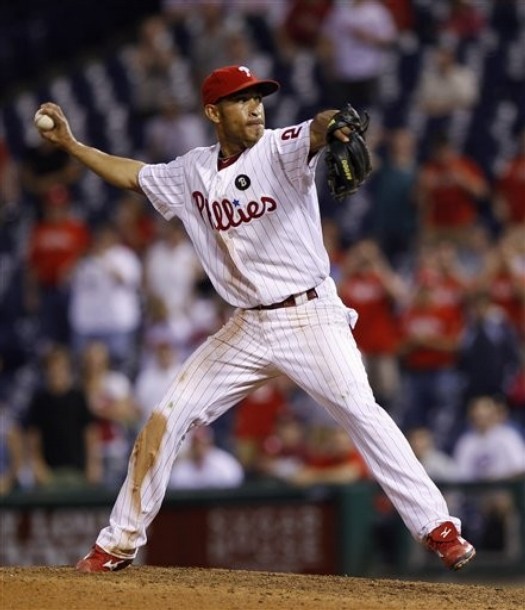 There were a couple of news stories for the Philadelphia Phillies over the last day or so and I promise I was going to put them all up in individual posts, but for the fact that I choose not to do so.
So here are a few bullet points on the Phillies (or "nuggets" as Peter King likes to call them):
-Sidelined since April 21st with a flexor pronator strain in his right elbow, Jose Contreras was activated off of the DL today. With Ryan Madson clearly in the closer's role at this point, Contreras would go back to eighth-inning duties. Does this mean we can be done with David Herndon? Please?
-Credit where credit is due: Danys Baez threw 73 pitches in five innings last night to keep the Phillies alive. I am not a Baez fan and I cringe every time he steps out of the bullpen…unless it's to join his teammates after the game is over. But, he was great last night and I have to acknowledge that.
-Wilson Valdez may be a better pitcher than a hitter. It's one of the times in baseball that I get really excited. Seeing a position player pitch, or having Roy Oswalt out in left field. It was awesome. Did anyone else notice that Valdez didn't look like a chump up there like most position guys do (aside from Brooks Kieschnick of course…anyone remember him?)? He actually had good movement on his pitches and didn't completely look like a fish out of water.
-Shane Victorino (hammy) is scheduled to start his rehab assignment on Saturday. He's scheduled to play back-to-back games this weekend, get a day off and then play three games in Double-A Reading. If everything goes smoothly, he could be back as soon as next weekend for the Pirates.
-Brad Lidge threw a bullpen session the other day. Anyone intrigued as to what exactly they'll do with him when he comes back? Madson has been too good to just yank back to the setup role. If for some reason they put Lidge back as the closer, how short of a leash will he be on? Two bad pitches then get him out?
-You like Vance Worley? Get used to seeing him. Joe Blanton will be shut down for 3-4 weeks, but thankfully will not require surgery. I knew things were bad when I heard "Dr. James Andrews." Hopefully, Worley can continue to give the Phils a chance to compete.