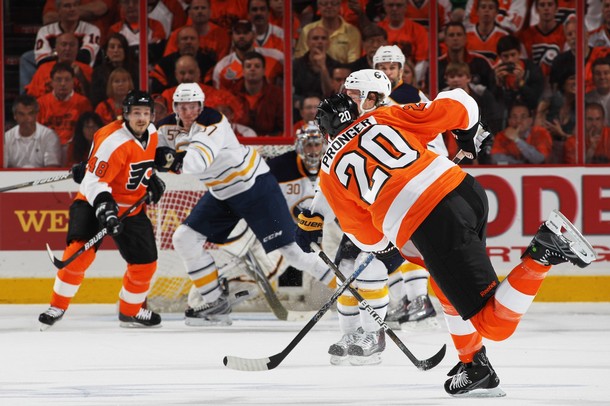 Chris Pronger spoke with the media via conference call earlier today. For a copy of the transcript, Chuck Gormley of the Courier Post has it posted here.
If you don't have the time to read through the entire transcript, here are the major points:
Pronger was told his back surgery was successful but he won't be able to begin his off-season training for another six weeks. He won't really know until then whether he is still feeling pain in his legs when he pushes himself. Basically, the organization will know after free agency has begun whether or not their #1 defenseman will be ready to start the season.
Pronger is still rehabbing his hand.
Health seemed to be the biggest issue for the whole team heading into the playoffs, and he has faith in the team next season due to the stand-out play of Claude Giroux and James Van Riemsdyk.
Pronger has no idea if the team needs a goalie. "They don't grow on trees, even the ones you get you never know. Sometimes they work out, sometimes they don't. That's the difficult part of it. What do you have to give up to get one?" That's an excellent question.
Pronger doesn't give a hoot who is still in the playoffs.
Pronger doesn't believe any blame for the season belongs on Mike Richards. "When a team wins, players get pats on the back or get all the credit. That's usually your captain, your goalie… When you lose, whether it's fair or unfair, the people that get criticized are your captain, and your goalie, and all the way down the line." Sounds about right.
Pronger actually called out Sam Donnellon for his article suggesting that, since the Flyers organization didn't outright respond to his and other media outlet's cries for Richards being stripped of the captaincy, that there was nothing else to do  but to trade him or remove the captaincy. "That is the most ridiculous thought I've heard yet." Donnellon was not on the call.
Pronger did cover the areas where Richards could improve as a captain, but firmly believed that he will improve as his career continues.
The biggest takeaway from this interview, for me at least, was the health question. If Pronger is still a question  mark by free agency, I don't see this team moving any of their defenseman. Even with the salary cap situation being as tight as it is, they will not likely downgrade from what they have now.
For the latest Flyers news and updates, you can follow me on twitter (@JoshJanet).