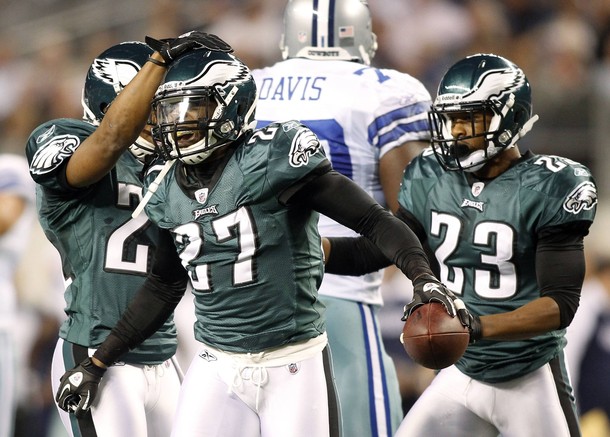 As many of you know, Eagles players have been working out at the PowerTrain gym in New Jersey quite a bit this spring. This is part of the effect of the lock that remains on the doors of the NovaCare Complex, which prevents Eagles players from working out in the facility.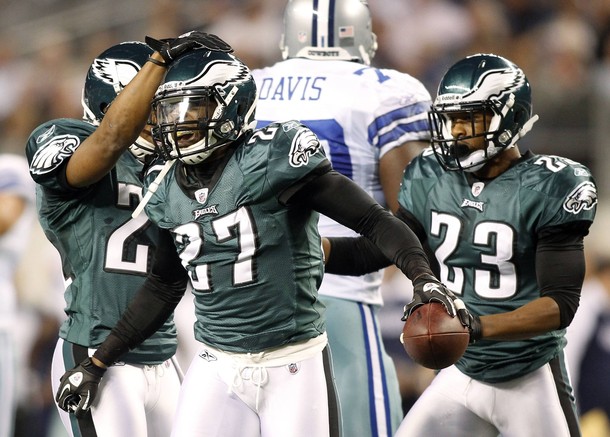 The lockout has reared its head in every aspect of the NFL this off season. Trades have to be put on hold, and draft picks are being shown the door right after meeting their coach.
But as news and coverage of the lock out grows and grows, it is easy to forget the real life effects this lockout is having on players.
On Thursday, G. Cobb and I were at Powertrain, talking to the Eagles working out there. Quintin Mikell, a free agent this summer, painted a real life picture of what the lockout means for players.
Mikell told us that his wife is expecting a baby in October, the first time he has made this revelation to the local media members. Mikell brought this up to illustrate the effects the lock out is having on his life.
"We have a daughter on the way in October. Im in a situation where I don't know where I'm gonna be. If we do have to move, we have to find new doctors. I'm worried about it. We all have different worries and different problems" said Mikell.
The sincerity and genuine concern in Mikell's voice is one that can be heard in many players voices around the league right now. Its easy to point to the money Mikell has made over his career and say not to feel sorry for him, and while there is some validity to that, any man with a family can sympathize with Mikell's situation.
Stories about players going break, borrowing money, or trying to have a baby before the strike last season because of health insurance does not seem as real until you hear a player say it himself.
The immense medical bills David Akers accumulated during his daughters ordeal last season are real, and the pieces of paper that
represent the contract that can't pay him yet won't make them go away.
Mikell and Akers are quality NFL players, and they will not doubt have a job when the season does start. But to the countless lower level players that live year to year, real people who's occupation is football, are facing the same genuine problems that come with any union striking. They could be losing out on the contract they worked their whole life for.
Stories like Mikell's make you think hard about whether Kevin Kolb really is the one struggling most from this lockout.
Whether you are for the players or owners, it is important to take a step back and realize the lock out is a lot more then a lead story on ESPN.