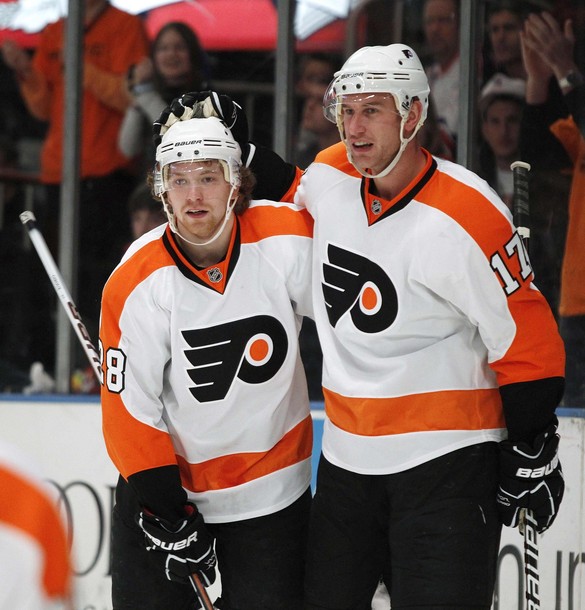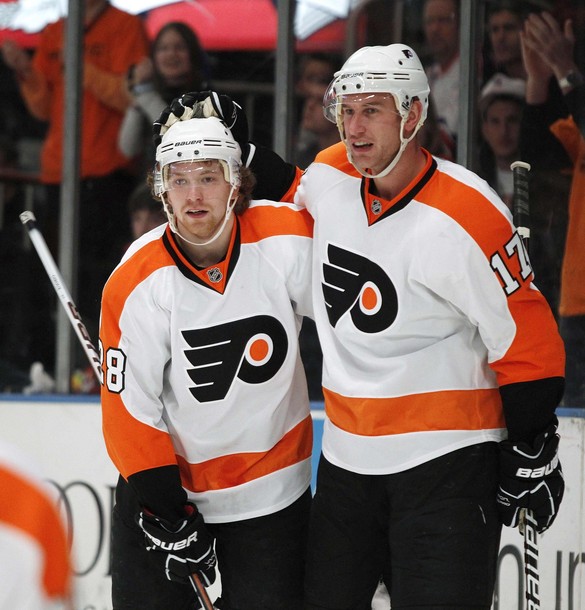 The second offensive line for the 2010-11 Philadelphia Flyers generally consisted of four players – Jeff Carter, Claude Giroux, James Van Riemsdyk, and Nikolay Zherdev.
Various outlets in the Philadelphia media have suggested that the Flyers will be forced to trade one of their current players for a goaltender due to salary cap constraints. CSNPhilly leaned heavily two weeks ago on the idea that Jeff Carter may be traded as a result of those constraints. Carter's seven year, $5.27 million contract extension goes into effect July 1, but he can be moved before then.
This is a terrible idea.
Carter is a consistent 35-goal scorer in the NHL and at 26, there's absolutely no reason to move him, of all players, for a goaltender. I'm sure many out there would have no problem with it "because he's a bum." His playoff performances in the last three years haven't been as good as one would hope, but he's also been injured for two of them and rushed back in.
In his return to the ice in Game Three against Boston, Carter logged in more ice time than any member of the LBH line.
Despite the handicap of playing on the wing all season when his natural position is center, Carter did just fine with Claude Giroux. Truth be told, it's much easier to find offensive depth at wing than at center, and moving Carter would put the team at much more of an organizational disadvantage than most realize.
Claude Giroux signed a three year contract during the past season with a respectable $3.75 million cap hit. Giroux has grown into a reliable two-way center and has unbelievable potential. Giroux was one of Peter Laviolette's heavy lifters in the playoffs, eating a tremendous amount of ice time. He isn't going anywhere.
No one was more a surprise in the 2011 playoffs than James Van Riemsdyk. The Flyers' second round performance against the Boston Bruins still stings to think about, especially considering they have now made it to the Finals, but JVR's efforts in Game Two were monstrous. It appears that he has finally realized how he can effectively use his size against his opponents, which is another reason to be hopeful for next season.
JVR carries a $1.6 million cap hit and will be a restricted free agent after next season.
One of the major disappointments this season was with Laviolette's poor handling of Zherdev. He was signed to help with the potential scoring drought left after Simon Gagne was shipped to Tampa Bay, but he was never trusted by the coach and never had a chance to succeed. That's not to say there were never reasons to bench him, but scratching him in Game Four against the Bruins so that Jody Shelley could warm the bench was absurd.
Zherdev is currently facing criminal charges in Russia after an argument with his wife led to him going Jack Nicholson on her car. I'm not going to speculate into what exactly happened there, but suffice it to say, it is very unlikely he will be back in Philadelphia next season.
The JVR-Giroux-Carter line may very well be the top line next season, if Carter isn't shipped off so the Flyers can sign their true #1 goalie, John Vanbiesbrouck Roman Cechmanek Maxime Ouellet Antero Niittymaki Sean Burke Jeff Hackett Robert Esche Martin Biron Ray Emery Ilya Bryzgalov.