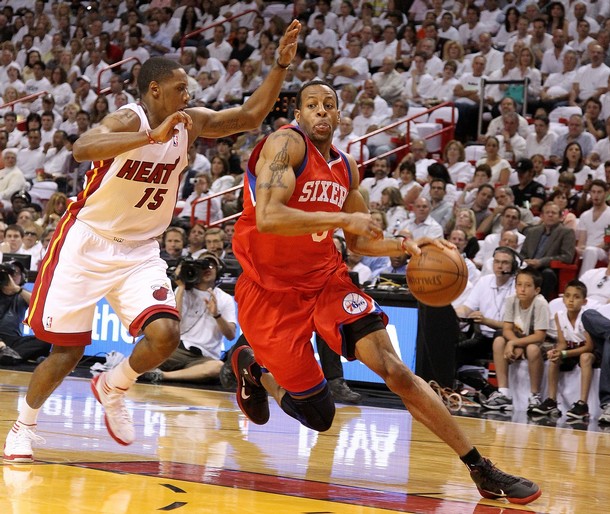 The trade rumors involving the Philadelphia 76ers' Andre Iguodala have surfaced once again and this time they may stick. According to ESPN's Ric Bucher the Sixers would send Iguodala to the Golden State Warriors for shooting guard Monta Ellis in what would be a straight-up deal.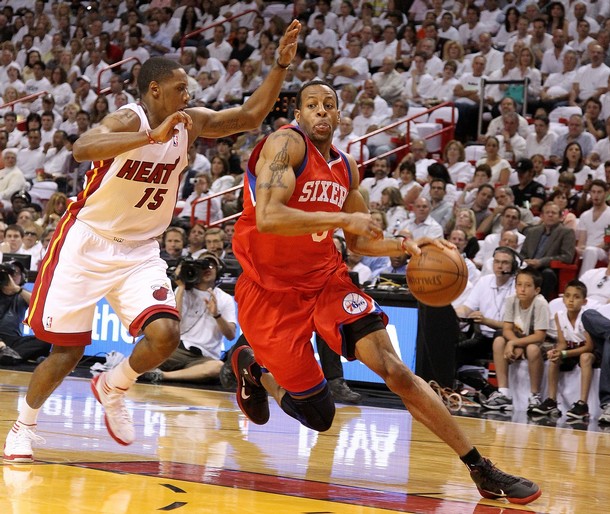 Financially, the deal works for both teams and gives the Warriors a perimeter defender in Iguodala and the Sixers would get some much needed scoring punch in Ellis who averaged 24 ppg. last season.. Bucher also states that Iguodala would be open to a trade. At this time no deal is
imminent.
And as much as I would like to see Iguodala moved, lets look this deal over before we make any sudden decisions.
First the cons of the deal:
1. With Jrue Holiday at 6'4″ and Ellis at 6'3″, the Sixers would have one of the smaller backcourts in the NBA again this season. And while Ellis is a dramatic upgrade from Jodie Meeks, But without a perimeter defender, the Sixers would be outmatched when it comes to dealing with some the bigger two-guards in the league.
2. Is Ellis much different than Lou Williams? Williams is the same type of streaky shooter as Ellis, and would probably produce close to the same numbers if he played 40 mpg.
3. We saw last season how productive Holiday, Meeks and Evan Turner can be when they have the ball in their hands. There's a possibility that the addition of Ellis, who attempted over 1,600 shots last season could disrupt that.
4. The Sixers are still in need of front
court help…
Now the pros of this deal:
1.The Sixers would gain a needed scorer and "go-to" player down the stretch in close games. Gone would be Iguodala dribbling the clock down to hoist that fading 19-footer.
2. The thought of a backcourt of Holiday and Ellis – smallish, yet entertaining.
3.Thaddeus Young gets a well-deserved contract and a chance at the starting small forward spot. I don't think it's a stretch to say that Young could be just as effective as Iguodala as a perimeter/post defender?
4. Good for cap space. Ellis deal is $11 million over each of the next three seasons, while Iguodala's is at $13.5 next season and will increase by $1.2 over the next two seasons. With the Sixers current cap situation any loose change helps.
5. A good young team. Ellis is 25 and would be on one of the better younger teams in the NBA.
6. Believe in Collins. Doug Collins worked miracles without a primary scorer last season, I'm sure he'll get Ellis to buy into whatever he's selling if it ultimately means winning.
Stay Tuned…