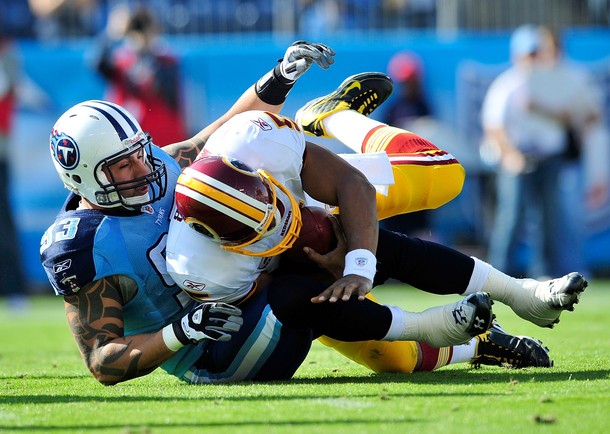 Eagles second year defensive end Brandon Graham won't be ready to start the season because he's recovering from knee surgery. The team's front office has let it be known that they're going to be aggressive in the free agent market. This just about guarantees that they're going to go after a starting defensive end to replace Graham on the left side of the defensive line opposite Trent Cole.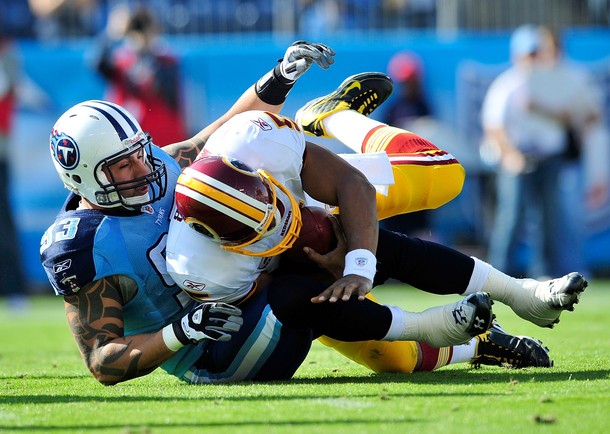 One of the guys the Eagles could target at the defensive end position is current Tennessee Titan and former Bird, Jason Babin, who had the best year of his career a Pro Bowl selection, 13.5 sacks while under the tutelage of Eagles new defensive line coach Jim Washburn.
Right now, Babin is a free agent and because of his veteran status will likely get the chance to decide where he wants to play at in 2011. He has expressed concern about all the changes that are occurring in Nashville. He's got one big question mark on with regard to the Eagles. He's 31 years of age.
"I've been a little anxious," Babin told a reporter in Kalamazoo, Michigan . "I would have liked to have had my contract situation squared away March 3. But there's a picture that involves the NFL as a whole, so I really can't be selfish when it comes to that. We've
got to get some things squared away when it comes to the (collective bargaining agreement).
"I'm not overly concerned about having a job, I more so concerned about having my family there with me and the situation I'm going to be in — meaning find the right schools, the right neighborhoods, find a house to live in, for a four- or five-year contract. So those are the kind of things that peeve me that they're probably not going to happen.
"More than likely, this is going to drag on, the way things are going, into July and August, the 11th hour, until everyone steps away from their ego a little bit. I'm getting upset about that because it impacts my family."
Philadelphia would be a great fit for Babin because he and his family already know the area. He knows Andy Reid and the coaches and he would be playing under the leadership of the guy, Washburn, who helped make him a Pro Bowler.
The big question is whether the Birds would give him a four or five-year contract. Chances are they wouldn't but they could because they know they'll have the option of releasing him after a few years into the contract.
Eagles GM Howie Roseman has made it clear that the Birds value pass rushers and are unwilling to go to battle without plenty of them.