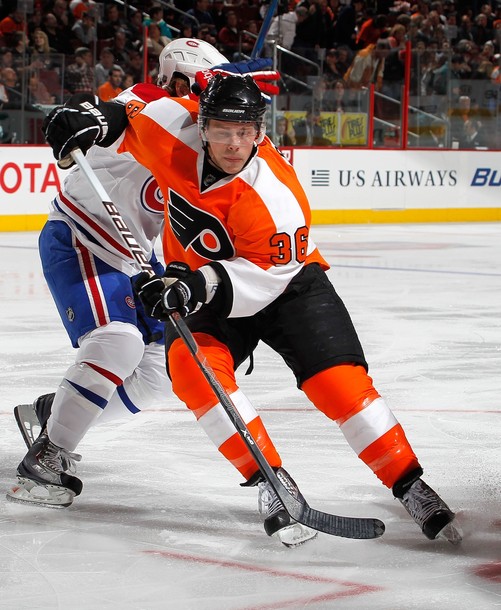 The roster for the 2011-12 Philadelphia Flyers continues to take form as the deadline for sending qualifying offers to restricted free agents passed at 5:00 PM this evening.
Andreas Nodl has been signed to a two-year, $1.69 million extension. Nodl, 24, scored 11 goals and 22 points over 67 games last season. While he is unlikely to contribute much more than that offensively, he may become a cornerstone of the penalty kill now that Mike Richards and Jeff Carter are gone.  I'm also assuming this means that the concussion symptoms he sustained during the 2011 playoffs have worn off, but you never with the Flyers' medical staff.
Darroll Powe was traded to the Minnesota Wild for their 3rd round draft pick in 2013. The pick is a decent return, but Powe was a valuable asset for his speed, relentless checking and penalty kill pedigree.  Powe really stepped into the role that Ian Laperriere forged the season before, and will need to be replaced.
The main reasons the Flyers likely moved Powe was because of salary cap constraints (he was reportedly asking for just over $1 million) and the number of contracts they currently have locked up for next season. The maximum number of contracts a team is allowed is fifty, and the Flyers replaced two players with three last Thursday.
The Powe trade seems even less surprising when it was released that the Flyers have extended a qualifying offer to Phantom Jon Kalinski. Kalinski, 24, is a former 6th round draft pick that most probably remember for the Virtua Health commercial in which he's "flying again." Kalinski has actually carved himself into a Blair Betts type player with the Adirondack Phantoms, so Paul Holmgren may be expecting him to fight for a role with the big club next season.
I'm on the fence as to whether Kalinski deserves the spot over Ben Holmstrom. Both Kalinski and Holmstrom are the same age and played similar roles last season, but Holmstrom was the Phantoms' MVP and scored 38 points last season compared to Kalinski's 23.
Dan Carcillo, as expected, was not extended a qualifying offer.  He saw much less ice time last season under Peter Laviolette than the season before and didn't make enough use of his time to earn the extension.  Tom Sestito will likely replace Carcillo in the line-up.
I don't think it's all that necessary to break down the Phantoms roster, but the one roster position left vacant was the Flyers' goaltending depth. Assuming Michael Leighton passes through waivers, he and Johan Backlund will be the only goaltenders the Flyers still have in the system in North America, to the best of my knowledge, now that prospect Brian Stewart has been let go by the organization.
Considering both goaltenders have only one more year on their respective contracts and both have been injury prone over the last few years, it seems unwise not to have any goaltenders in the CHL or ECHL. I doubt the organization would leave themselves exposed at that position for very long.  Either they have another free agent in mind or are waiting to balance out their contracts while they get themselves in order.
For the latest Flyers news and updates, you can follow me on twitter (@JoshJanet).