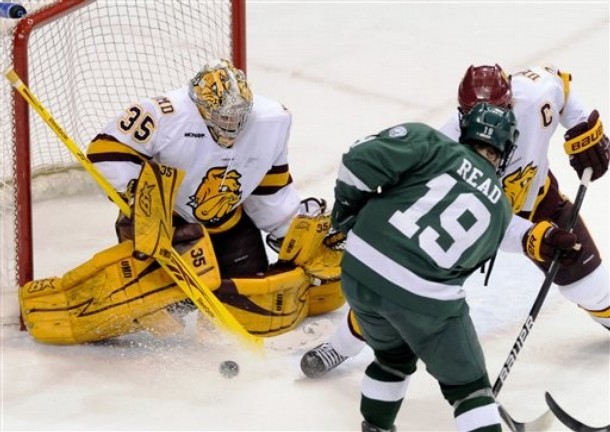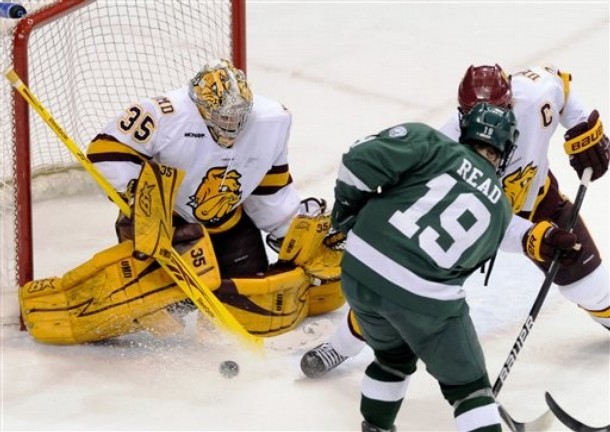 Matt Read hasn't played more than 7 games in the AHL, but if you've read any stories on the Flyers' best prospects expected to fight for a roster spot with the big club next season, Read is near the top of the list. Tim Panaccio of CSNPhilly went as far as suggesting, since James Van Riemsdyk so easily made the jump from college to the NHL, Read can too.
Apparently the organization feels the same way. According to Dave Isaac of Philly Sports Daily, general manager Paul Holmgren said of Read, "I saw him play at the end of the year, actually their last game, and he was clearly the Phantoms best forward." Read had an impressive 7 goals and 13 points in 11 games with the Adirondack Phantoms, but counting those along with the 37 games he played in his senior year at Bemidji State University, Read has played, at most, 48 games in a season.
One of the biggest reasons transitioning from college to the AHL or NHL is difficult is the fact that the players aren't usually conditioned for an 82+ game schedule. The AHL, while obviously not as intense as the NHL, is still a grueling schedule for someone not used to it.
As far as the comparison to JVR goes, Read put up the same amount of points in 2008-09, but was three years older at the time.
Hyping collegiate prospects isn't new. Last offseason, college signing Mike Testwuide was being compared to Mike Knuble as the Flyers' next power forward.  Chris Pryor, the Flyers director of hockey operations, was quoted on the Flyers' web site as saying, "We expect things coming off of this summer into next year. I would hope that in the near future he'll be pushing to make a spot on the big team because of the things he brings to the table."
What did Tim Panaccio have to say last September? "Testwuide, whose quickness on skates is noticeable during drills, is not all that different in terms of where he is right now and where James van Riemsdyk was a year ago." Again, the comparison is made to JVR, the #2 overall pick in the 2007 NHL Entry Draft, because, hey, he went to college too.
Now, I'm not a stats guy, but excellent web sites like Broad Street Hockey have conducted "NHL equivalency" comparisons in the past based on a system created by Gabriel Desjardins on the web site Behind the Net. It basically estimates what a player's production will be in the AHL or NHL based on how they've performed in other leagues (Russian, European, juniors, etc.). I attempted to run the numbers behind Read for next season.
Based on how Testwuide performed in his last year at Colorado College, one would expect him to have scored 20 goals and 29 points in the NHL last season. If you update the expectations based on his AHL performance last year, his production changes to 13 goals and 27 points. Testwuide had a dismal start with the Phantoms, but seemed to have adjusted much better in the second half of the season.
For other comparisons, forward Andreas Nodl's NHL equivalency for the 2010-11 season was 12 goals and 28 points. If he played in all 82 games, he was on pace for 13 goals and 27 points. JVR, in his rookie season, was expected to have 16 goals and 22 assists using Desjardins' NHL equivalency system. If he played all 82 games in 2009-10, he was on pace for 16 goals and 21 assists.
Where does Matt Read fall in this system? Seventeen goals and 37 points with the Flyers.
Factoring in his intangibles as a defensive-minded, penalty killing forward, Read actually has a good shot at making the team next season.  Then again, Testwuide, who scored twice for Team Orange in the scrimmage today that wrapped up this year's Flyers rookie camp (Brayden Schenn had three goals), has been overlooked or forgotten by many beat writers simply because he isn't the next big thing.
Read is the safer pick on paper to make the team in September, but with a season in the AHL under his belt, Testwuide may actually be better prepared.
For the latest Flyers news and updates, you can follow me on twitter (@JoshJanet).