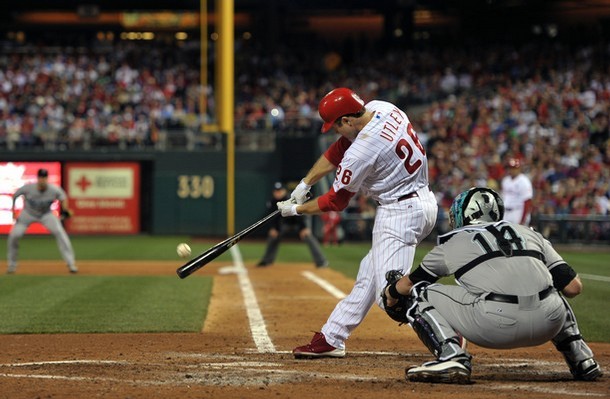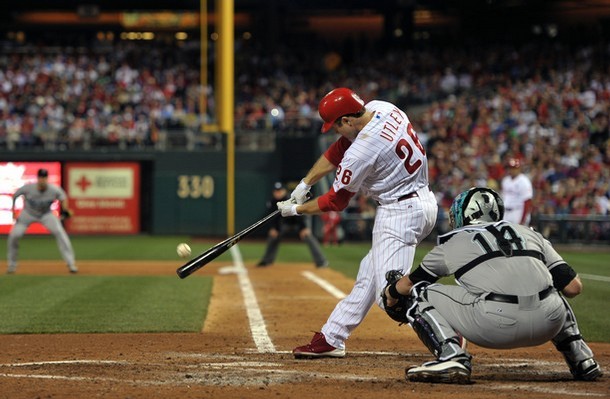 Breaking News: The 2011 Philadelphia Phillies are a pretty good baseball team. They have consistently excelled this season with dominant starting pitching, timely hitting, stellar defense, and an impressive bullpen.
While that is all fine and dandy, it was clear something was lacking during the first 46 games of the season. That all changed on May 23rd when Led Zeppelin's "Kashmir" blasted through Citizen Bank Park's sound system and the Phillies most valuable player stepped to the plate for the first time this season.
Like it or not, we all have to realize that Chase Utley is the Phillies' MVP.
This isn't just about stats. Not everything in sports is about stats. Sure, while his numbers may be a bit down this season to due injury, Utley normally puts up fantastic offensive numbers for a second baseman and plays superb defense. I have no doubts that he will finish this season with fairly good numbers. But to me, personally, his team MVP credentials come from his presence on and off the field and the effect he has on his teammates.
Utley is his team's quiet leader by example. Don't believe me? Why don't we check out what Roy Halladay, last year's NL Cy Young winner, had to say about Utley shortly before the season began, shall we?
In a March 31st article posted by Enrico Campitelli, Jr. on the700level.com, Halladay is quoted as saying this about #26: "The best part about him is his demeanor off the field, his demeanor in the clubhouse, his work ethic". Halladay continued "I think he's a big part of this team whether he's on or off the field…. We'd love to have him on the field but you can't underestimate the kind of influence that he has on the clubhouse". That's some heavy stuff coming from a guy as decorated as Roy Halladay.
Ex-Phillie, now struggling Washington National, Jayson Werth also offered up his opinion shortly before the season began on Utley and his presence. In an interview with Danny Knobler of cbssports.com, Werth said Utley means "everything" to the Phillies. He added "There are not too many like him. He brings a mentality and work ethic to the workplace that's unparalleled from anyone I've ever played with". Take his opinion for what it's worth, pardon the pun.
As you can see, I'm far from the only one who feels this way. It's nice when current and ex-teammates of Utley share the same sentiments.
A healthy Utley lets Charlie Manuel perfectly fill out his lineup. Yes, I know we need that right-handed bat to even everything out. You listening, Ruben? Anyway, let's work with what we currently have.
Utley is the perfect 3-hole hitter for the Phillies' lineup. Shane Victorino, while having a great season, especially at the plate, just isn't a 3-hole guy that will intimidate opposing pitchers. Ditto for Raul Ibanez with his age and inconsistency. John Mayberry and Domonic Brown just don't have the qualifications for that spot. That, my friends, is invaluable.
Perhaps the most important thing Utley brings is a sense of comfort and stability; that same sense of comfort and stability that just wasn't there when Utley was out of the lineup during April and early May. Throughout the first 46 games of the season, there just seemed to be a sense of uncertainty and a tense nature, specifically surrounding the lineup. Not that we still don't rely on our fabulous starting pitching, but there has been a more confident atmosphere among the Phillies batters since Utley has been back.
He brings that "you can't beat us" attitude with him to the ballpark everyday and it clearly rubs off on his teammates and coaches.
Long story short, Utley's presence, work ethic, quiet leadership, attitude, and let's not forget production, are just a few of the reasons why he is the MVP of the Philadelphia Phillies. Don't agree with me? Just ask his teammates.