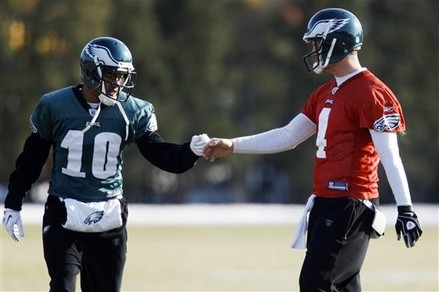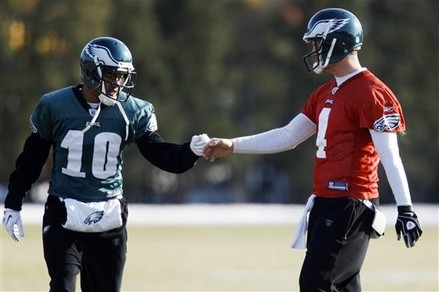 On the first day NFL teams were allowed to make any transactions, quarterback Kevin Kolb was supposed to be announced an Arizona Cardinal at 10:00:05 AM EST.
Well, 12 hours later he is still a member of the Eagles and fans are beginning to worry that he won't end up traded. This is Philadelphia, right?? When are things picture perfect???
I still think Kolb will be traded. I also believe he's still the Cardinals first choice. Just like the labor negotiations, both sides must do their due diligence to make sure the trade is good for them.
Another storyline came this morning when quarterback Michael Vick stated he wasn't sure when wide receiver DeSean Jackson would arrive at camp.
Neither Jackson nor his agent Drew Rosenhaus said he would holdout. If DeSean isn't at Lehigh Univ. by Thursday, we'll have a better idea of his plans.
I mentioned a few days ago that I wouldn't lose any sleep if the Eagles didn't sign any of their pending free agents. Well, it looks like the Eagles front office won't lose any sleep watching these guys walk either.
This doesn't mean none of them will return. I translated this as the Eagles saying "If you think you can go get a long-term deal, knock yourself out!! If that doesn't work, this one year deal will still be on the table."
Safety Quintin Mikell was the first reported departure, signing a 4 year deal with the St. Louis Rams. Mikell is a good player, but $27 million?? $14 guaranteed?? Glad Philly didn't give him that contract.
While we wait for announcements that the Eagles have made trades, signed draftees and agreed in principle with free agents, they did sign 10 undrafted rookies.
Each guy has an uphill battle if they expect to make the final 53 man roster. Here's the scoop on each player……
1. Perry Baker-WR (Fairmount St): The Eagles drafted a few players with NFL bloodlines. With the signing of Baker, they have continued this trend. Outside of good effort during the preseason, I don't expect much from him.
2. DeAndre Brown-WR (Southern Miss.): Brown might've been drafted if it weren't for his injury history. At 6'5", 239lbs he'll be tested in red zone situations. His work ethic and special teams will be key.
3. Graig Cooper-RB (Miami): At 5'10", 205lbs Cooper fits the Eagles mold for running backs. He had a partially torn ACL at the end of the 2009 season which limited his production his senior year. He'll have a chance to battle Eldra Buckley for the third halfback spot.
4. Chas Henry-P (Florida): The Eagles drafted the top-ranked kicker in Alex Henery. Now they signed the top ranked punter. In addition to his accuracy and hang time, Henry also can hold for field goals, kickoff and place kick himself. That said, he needs some competition in training camp.
5. Jerrod Johnson-QB (Texas A&M): Johnson is 6'5", 250lbs, mobile and has a strong arm. However, his quarterback skills are extremely raw. Two words: Practice Squad.
6. Brandon Peguese-DE/OLB (Hampton): Being that he's 6'0", 230lbs I was concerned about the Eagles using Peguese as a DE (Another Philip Hunt??). He's listed on their official roster as a linebacker. The Eagles LB unit is so thin he could still make the team.
7. Cedric Thornton-DT (Southern Arkansas): With the uncertainty of Jeff Owens recovery from his December injury, the Eagles need another camp body at defensive tackle. At 6'4, 310lbs, Thornton may be able to surprise some people during the preseason.
8. Terrance Turner-WR (Indiana): When reading his scouting report (not known for athleticism, runs good routes, strong hands), the 6'2", 212lb Turner sounds like a taller Jason Avant. If he proves himself on special teams, maybe he'll take Chad Hall's spot.
9. Martell Webb-TE (Michigan): The Eagles kept just two tight ends on the roster most of last year. Hopefully they go with three in 2011 in case of injuries. Webb was a reserve tight end as a Wolverine whose playing time was primarily on special teams.
10. Noel Devine-RB (West Virginia): There were two speedy running backs who could return kicks that I wanted the Eagles to covet during their draft process. They were Kentucky's Derrick Locke and Devine. Devine may have been a mid-round pick, but I believe the NFL rule changes for kickoffs may have diminished his value.
The Eagles have yet to announce a blockbuster deal, but who knows what's brewing at the NovaCare Complex. Remember how and where we found out Donovan McNabb was traded?
Day Two is going to be very interesting….