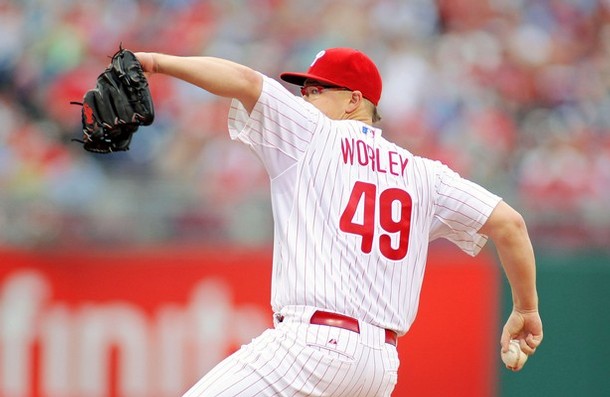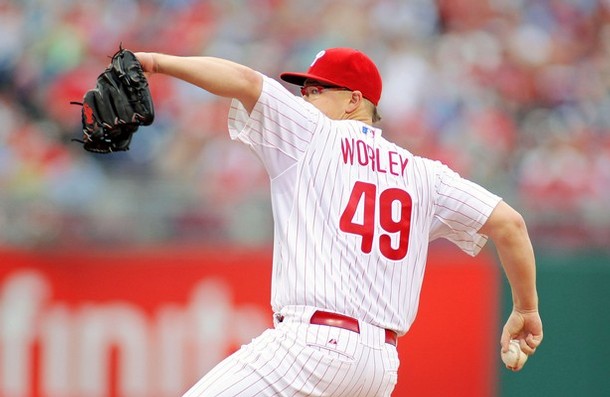 There's a lot of talk lately that the Phillies could ship off their 7-1 rookie pitcher Vance Worley in order to acquire the highly-regarded right-handed bat they have been searching for.
Worley's been nothing less than spectacular so far. With nothing "special" about him, Worley has managed to baffle opposing batters. He doesn't throw a high 90's fastball. He doesn't have a 12-6 curveball. And he doesn't have some funky windup like Dontrelle Willis or Tim Lincecum.

He uses his control and his back-door fastball, which is becoming his go-to out pitch, to fool the hitters and keep them in the ballpark.
His numbers are unbelievable. To go along with his aforementioned 7-1 record, Worley has amassed a 2.02 ERA, a 1.09 WHIP and has surrendered just 48 hits in 62.1 innings of work. He doesn't strike people out like the other Phillies' pitchers (53 K's), but he forces ground outs and pop outs at a good rate; opponents are hitting a measly .212 against him.
Despite his terrific numbers, I do begin to wonder when the big league hitters will figure him out. As I said earlier, he's not overpowering and he's not pitching with a goofy windup. He's just pitching effectively.
At some point, big league hitters will figure him out and that effectiveness of his will begin to wear out. Continuing to develop his fastball and back-door pitches will be the key factors in whether or not he is able to pitch this effectively for multiple years.
With that said, there's a part of me that compares him to another rookie sensation in Philadelphia: J.A. Happ.
The Northwestern alum was plain filthy in 2009, going 12-4 with a 2.93 ERA and 119 strikeouts. Those numbers could be nearly identical to Worley once the season concludes.
Now Happ was a great pitcher, but now, he's sort of cooled off. Maybe it's the fact that he plays for the worst team in baseball down in Houston. Whatever it may be, Happ has failed to pitch up to his 2009 numbers. Currently, the former Phillie is 4-12 — a complete reversal of his 2009 numbers — and has an ERA doubled from 2009 (6.12).
To avoid having anything funny "happ-ening" with Worley, should the Phillies trade him now? Don't forget, his stock may never be this high again.
It's some food for thought. With so much hype surrounding the Phillies this trade deadline, and with the need for a right-handed bat being featured on every website across the Philadelphia area, there's the possibility that the Phillies use Worley as the centerpiece in a trade for someone like Hunter Pence.
Hey, wouldn't that be ironic: Worley and Happ pitching on the same staff?