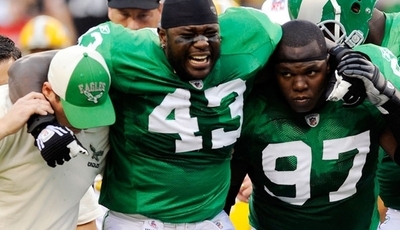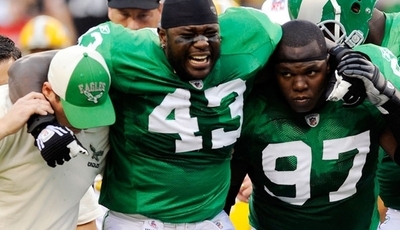 Anyone who thinks the Eagles are the Gold Standard and one of the more classy organizations in the NFL better run that by former Eagles fullback Leonard Weaver.
Weaver found out he was cut Thursday night, from a reporter. "The kicker behind that is the organization didn't call me. I had to find out by a reporter." Weaver Tweeted. " Now I have mixed feelings about that because I gave everything I had to the organization, and I would think they would at least call…"
Weaver, who suffered a torn ACL last September, was expected to need at least nine months to recover. The Eagles decision to cut a recovering Weaver is exactly why fans should not blame Desean Jackson for holding out and demanding to be paid.
At the time of Weaver's injury the Eagles were more than happy with the fullback, one knee injury later he is tossed to the dumpster like yesterday's trash.