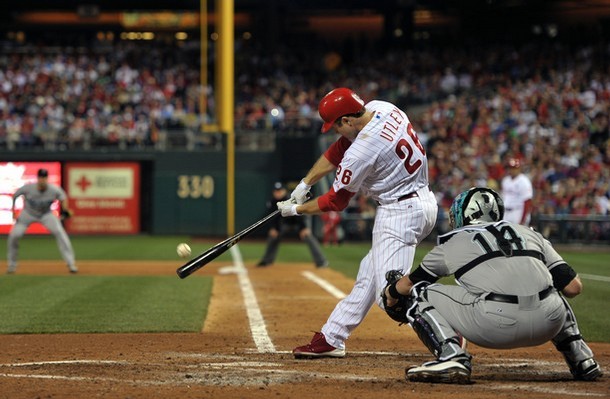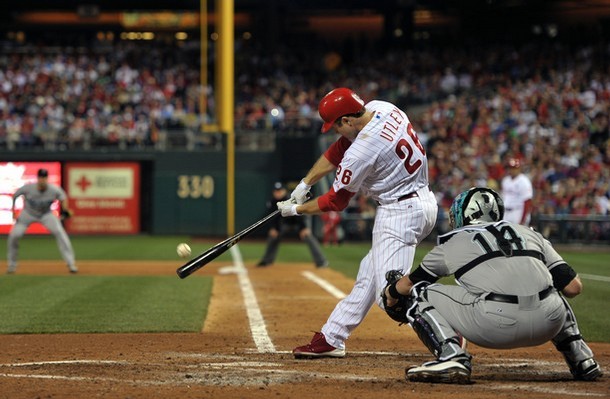 Philadelphia has seven wins and three loses in their past ten games, much thanks to red hot Chase Utley. In the past seven games, the Californian has doubled his home run count to eight. Sure eight home runs is weak out of your number three hitter, but four in seven games, that's impressive.
So what's gotten into Utley lately?
His first homerun of the stint came in his first at-bat against Matt Latos. The Padre is a solid pitcher stuck on the last place team in the West. Don't get me wrong this guy's no Doc Holladay, but he did post a sub three ERA last season and he did shut out the Phils for five consecutive innings.
Latos later commented that after Utley's homerun, "I started rearing back and letting it go." He retired 11 of the 12 batters he faced following the slugger's home run. The only hitter to reach base during that stint, was the second baseman on a fourth inning walk. So Utley was in Latos' head after the home run, rightfully so, and he would show a little more pop in the bottom of the seventh against Chad Qualls.
The All-Star was able to take full advantage over a reliever who has blown four saves in as many opportunities. Ever since closing for the Diamondbacks, Qualls has had a history of being booed off the field. Even in a ball park where more fans are in the swimming pool than in their seats, they hated the reliever. The first-year Padre, allowed two home runs prior to Utley's in that inning, one to Ryan Howard and one to Michael Martinez.
Despite Philadelphia being ahead on the score board, Utley picked a good time to have his first multi-home run game since April 2010. Ironically enough, when he had that two-homer game last season, he was amidst another tremendous seven game streak. The Phillie posted six homeruns and eight hits during that stretch. The Bruin has been more consistent this time around, posting two more hits than he had in the same amount of at bats last season.
Is this over-analysis? Maybe, but the Phil's star is very streaky and perhaps his quick start to the second half has jump-started Charlie Manuel's offense.
Utley's next homerun came on July 26th against the San Francisco Giants. Tim Lincecum was a game-time scratch leaving lefty Barry Zito starting for the hometown. Utley is a career .429 hitter against Zito and has a .087 average against the Freak. Well, the four-time Silver Slugger had the numbers working for him and after going one for two, Chutley hit an inside of the park home run for his third home run in four games.
Last Friday, the speedy second baseman hit his eighth home run of the season (the fourth in seven games). The red-hot batsman went three for five including a home run in the second off of Charlie Morton. The Jersey native would go on to give up six earned runs in four innings pitched. Utley has owned Morton throughout his career with five hits in ten at-bats.
There is one problem with the Pasadena native's streak, all his home runs have come off less-than quality pitchers. During the Phillies' three losses, Utley only posted two hits. The pitchers during those losses were Matt Cain (2.91 ERA), Lincecum (2.78 ERA), and Aaron Harang (9-3 record this year). Statistics don't lie, and although Utley's power numbers are the best we've seen all year, it would be nice to see him go yard against somebody other than mediocre pitchers.
It's crazy to expect Utley to hit thirty home runs, but anything less than 18 would be a disappointment and a reason to drop him from the three hole. On the other hand, if Utley can stay consistent, he can have spectacular effects on Manuel's lineup. The Phil's manager should be ecstatic with a lineup consisting of a red-hot Utley, an always dangerous Ryan Howard and now a guy who drives in runs and hits for average in Hunter Pence.