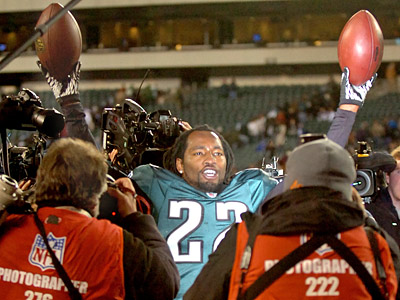 I know we could use a right tackle and our linebacking is suspect with all the youngsters in there, but I think the Eagles should hang onto all three of their Pro Bowl cornerbacks. The NFL is a passing league. The team that wins the Super Bowl must have a superior passing game and an ability to stop the pass.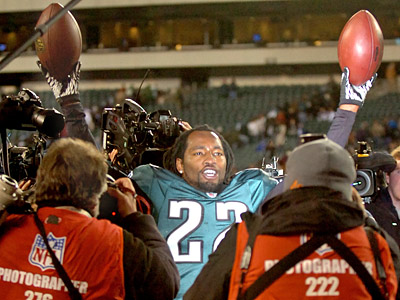 Let's take a quick look at the team which won it all last year, the Green Bay Packers. On both sides of the ball, the Packers were superior to the rest of the league in their ability to pass the football, and their ability to stop other teams from passing the football. If the Eagles want to win a Super Bowl, they must be able to compete with the Packers in the passing game.
Let's take a look at the Packers passing game, which starts with Pro Bowl quarterback Aaron Rodgers.
Rodgers is a great athlete, who throws the football with accuracy, power and precision like few signal callers ever have. I could sit their and watch him throw the football because his release is like a work of art. He made a key throw to Greg Jennings last year on a skinny post on third down in the Super Bowl, that was an impossible throw. There's no way he should have been able to get that ball in there but he did. I don't think we've seen his best just yet.
From a receivers stand point, the Packers are stocked with talent. They have Jennings, Donald Driver, James Jones, Jordy Nelson, and they've added rookie Randall Cobb,
Jennings is the best of the crew with a great combination of size, speed and playmaking ability. He's the big play guy, who can get deep or make the great run after catching the football. He and Rodgers have a great connection and feel for one another.
Driver is the oldest of the group and mentor. He knows all the tricks of the trade but he doesn't have the burst he had in the past, He's a technician and tremendous route runner with great hands.
Nelson is the biggest of the group, standing 6'3″ and weighing 217 pounds. He's a very good route runner with deceptive speed and good hands. He seems to be coming into his own after a big Super Bowl performance.
Jones is another tremendously talented member of the group, who has good size, speed and playmaking ability, but he drops too many passes.
Cobb is a rookie burner and playmaker with tremendous punt return ability. He's a tough matchup in the slot, a poor man's Percy Harvin and another target for Rodgers.
They have another special receiver in tight end Jermichael Finley who missed the Super Bowl run and most of the 2010 season because of a knee injury but is expected to be back this season. From what I hear he's lost weight and eager to prove his talent.
I spelled all that out, to let you know that if you can't cover this group, you're probably not going win a Super Bowl. I don't think Rodgers and this crew performed at their best during their Super Bowl run last year. It was their defense that paved the way for them capturing the Lombardi Trophy. I think Rodgers and this group can take their game to another level.
Let me talk about their defense for a moment. I know most Eagles fans think that the Birds three Pro Bowl level cornerback situation is something new but the Packers rode their talented three Pro Bowl level cornerbacks to a Super Bowl win a year ago.
I know you're familiar with perennial Pro Bowl cornerback Charles Woodson. He can do it all. Woodson is a great athlete, who can cover, tackle, and blitz. Their young cornerbacks Tramone Williams and Sam Shields were playing so well that they were able to utilize Woodson as the nickel back and most NFL offenses weren't ready for it.
Woodson was all over the place all year long making plays and causing turnovers. The Packers started using their three cornerback defense on second and third downs. Nobody has been able to throw the ball successfully against this defense.
Cornerbacks Williams and Shields were great during the playoffs. First time Pro Bowler Williams ended the Eagles season by picking off a Michael Vick pass in the end zone. He also picked off a Matt Ryan pass in their playoff battle with the Falcons and ran it back for a score. He's got great speed, strength and coverage ability.
Cornerback Shields had a great rookie season. He's a former track and football star from Miami, who came into his own last year as a cover guy and picked off two Jay Cutler passes in the NFC Championship Game. He can run with anybody and like Williams he can play man-to-man all day long.
The great cover ability of the Packers secondary allowed the Packers pass rush to get after opposing quarterbacks. Pro Bowl linebacker Clay Matthews is a dominating presence who will rush from anywhere. Pro Bowl defensive tackle B.J. Raji gets pressure up the middle, which stops quarterbacks from stepping up.
The Packers' pass rushers were able to pin their ears back and put pressure on the quarterbacks while knowing that their pass coverage would make the quarterback pull the football down. Green Bay's three cornerbacks were the key to their pass coverage and ultimately they led the way to their Super Bowl victory.
The Eagles should try to employ the same formula defensively which the Packers employed on their way to glory. If you're going to play great defense nowadays in the NFL, you must be able to dominate opposing passing games. This is why I believe the Eagles should hang onto Nmandi Asomugha, Asante Samuel and Dominique Rodgers-Cromartie.