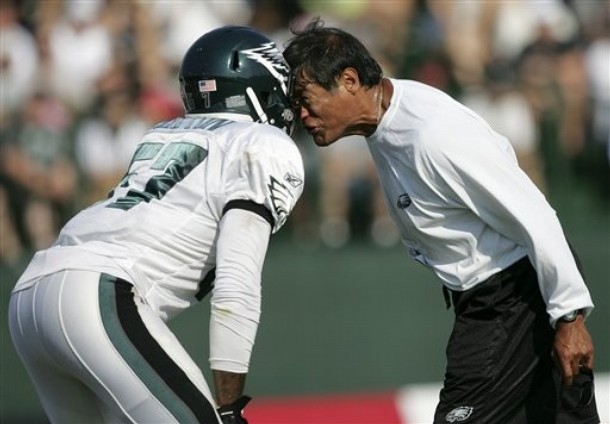 We're still very early in the training camp, but so far I like what Eagles new defensive coordinator Juan Castillo is doing with the Eagles defense, especially with what he's thinking about doing with his three cornerbacks.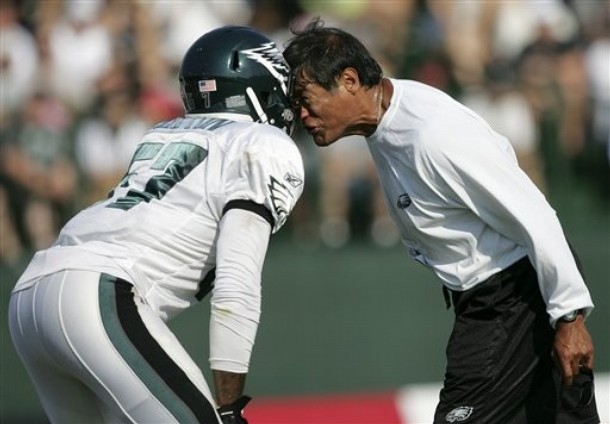 This afternoon, Castillo was talking the language I was writing about this morning. Nmandi Asomugha would be an ideal guy to do what Charles Woodson of the Green Bay Packers was doing last year in the nickel back position.
Coach Castillo talked about Rod Woodson but he really meant Charles Woodson. Rod Woodson is a Hall of Famer cornerback and safety who played for the Steelers, Raiders, Ravens and a couple of other teams. He was a great player, who could have played that nickel role, but Coach Castillo is talking about former Heisman Trophy winner Charles Woodson, who plays for the Packers right now.
In answering a question about being able to utilize the Eagles three Pro Bowl cornerbacks, Castillo merely pointed us toward what the Green Bay Packers do defensively with their three outstanding cornerbacks.
"I think all you have to do is look at the Green Bay Packers", Castillo said in talking utlizing three cornerbacks. "What position did [CB] Rod Woodson play in nickel? How much nickel did the Green Bay Packers play? That gets you excited." (again he said Rod Woodson but he meant Charles Woodson)
When asked about which one of them would be the nickel back he responded:
"You pick him", Castillo stated. "All three of those guys could do it. I think [CB] Nnamdi [Asomugha] is a special guy. He wants to
make plays. I think he respects Rod Woodson. I think he would love that role, being able to blitz; a big tall guy like that coming off the edge, and then all of the sudden in press coverage on the slot guy. Sometimes if he is going to match, the slot guy may be the guy inside anyway. It's exciting."
I disagree with him with that comment. Dominique Rodgers-Cromartie and Asante Samuel would not be good nickel backs because they don't like to tackle and hit. Charles Woodson is a good blitzer and tackler. Aomugha is capable and willing to do the same.
I think Asomugha is the guy, who could play the Woodson role because he's already a physical player. He played safety in college at Cal and he's known for jamming wide receivers at the line, so that they can't even get off and in their routes.
Castillo talked about following the trend I was talking about which the Packers started. They play their nickel defense with Woodson as the third linebacker on second down and long. Once the Packers have a good play on first down, they bring in their This makes teams get away from their passing games.
"That's exactly what we're talking about, and now you have the ability to do that, and do some of those things", Castillo reasoned. "I think they [Packers] set a trend for people not to be scared to do that. It's no different than sometimes having to play three wideouts with your base personnel versus people that you don't know how their subbing. I think it's all a mindset too for the guys."
I like the way Castillo is talking because he's stressing that the Eagles defense be an intimidating unit. Each day at practice, Castillo has been demanding that the defense pick up every loose ball, whether it be an incomplete pass, fumble, knocked down pass, dropped pass or whatever, and run it back into the end zone.
He forces the defense to run to the football and get ready to return the turnover for a touchdown. You have to be thinking turnovers all the time, if you want to force turnovers during the season. He's teaching them to grab the football and pull it out when the opportunity presents itself.
"It's like today, we were trying to work on a mindset", Castillo said this afternoon. "We were trying to get something across about being an intimidating defense. That's what we were working on today. I think those three corners understand how to intimidate people, as well as some of our other guys. I want the whole defense to understand how it feels to just intimidate somebody, you know, and that's what we were working on hard today."