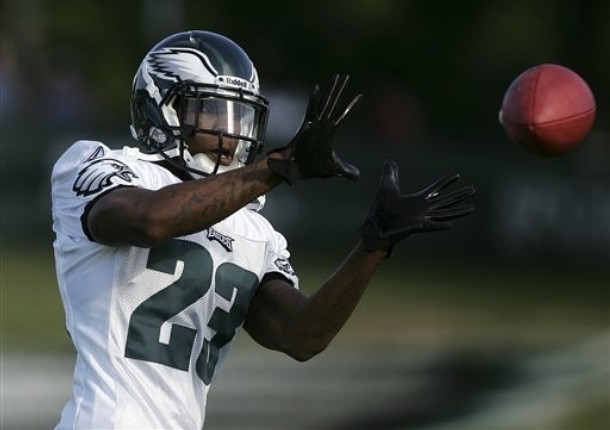 Being one of the newest Eagles at camp, Dominique Rodgers-Cromartie will have lots of work to do in order to acclimate to his new team, and defensive scheme.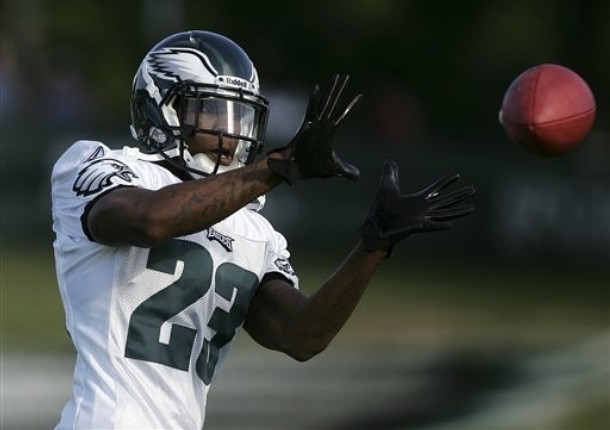 In a press conference over the weekend, Rodgers-Cromartie spoke about these issues, and, among other things, his thoughts on the Eagles' personnel. "I think it's going to be a very competitive atmosphere," Rodgers-Cromartie said. "With the guys on this team and the guys that are being brought in I think it's going to be very competitive.
After Rodgers-Cromartie was traded from Arizona to the Eagles, it didn't take long for Philly to further improve their secondary as they signed Nnamdi Asomugha, a move that shocked many for the simple fact that the Eagles were not thought to be in the race for the star corner's signature.
While many could have, with good reason, expected Rodgers-Cromartie to be the most shocked of all, the 2008 1st round draft pick says he received it as a pleasant surprise. "I got that much more happy," he said. "Bringing in a guy like that, now I can learn from both him and [CB] Asante [Samuel]. I mean you can't ask for anything better as far as learning."
In regards to the Eagles' secondary overall, he continued, "You can't describe it with the guys they put in place. It's kind of hard to describe, but what you expect is for everyone to go out and do what they've been doing. Just play ball. You've got the big plays in
Asante jumping stuff, and you've got the shutdown in Nnamdi. Really, it's just for us to go out and play ball."
Regardless of his attitude towards the situation, Rodgers-Cromatie is nevertheless expected to take a back seat to Asomugha and Samuel, and, with that in mind, the Tennessee State product shared his thoughts on his personal role for the team. "Wherever I fit in, I'm going to get in." said the cornerback. "That [playing as the nickel back] would be alright with me, as long as I can get on the field and compete."
While Rodgers-Cromartie seems to be excited about playing with the Eagles, he admits that he did not pay too much attention to the deal to take him to Philadelphia before it actually happened."I didn't really pay it too much mind," said Rodgers-Cromartie in regards to the then potential Kolb swap. "It really didn't hit me until the end of July. Just now, it's just now hitting me so I really didn't pay it any mind. I just stayed grinding, stayed doing what I had to do."
The cornerback, who insists that he didn't know much about the trade towards the end, has accepted that such moves, are in the nature of football. "It [the NFL] is a business and anything can happen," he said. One day you're in the Super Bowl, one day you're doing good, one day you're doing bad, one day you're on another team. The main thing is just to stay focused, grounded, and know what's at stake."
The trade, and Arizona, is in the past now for Rodgers-Cromatie. The player will now have to deliver on a team with Superbowl aspirations while competing with two of the best corners in the league, and if his attitude is anything to go buy, then Eagles fans can expect good things from the player. "I just worry about playing," Rodgers-Cromartie stated. I know what I have in both of those guys and what they bring to the table. At the same time I know what I can do. I'm just going to go out there and compete."