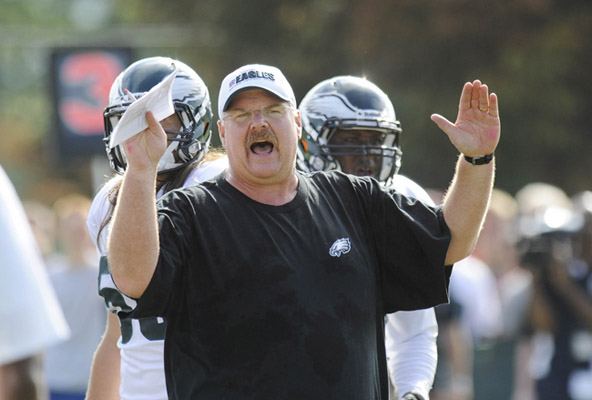 It was another busy day at Lehigh University and Andy Reid had the chance to address the media about several of the subjects after practice. From Mike Patterson's seizure to Danny Watkins presence in camp, there was plenty to discuss.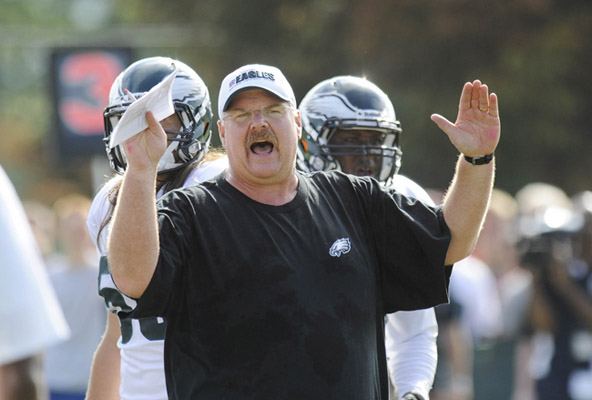 Wide receiver Jeremy Maclin, worked out on the side with some injured teammates. and we got no more information about his injury. While Reid was confident in how Maclin looked conditioning wise, he would not divulge anything further to the specificity or degree of the injury.
"The doctors have some of the results back but not all of them." Reid said. "They seem to be upbeat, but I don't want to say anything until everything is done and I can give you the whole sha-bang there….He's up here and he's in good spirits, he looks good."
While the injury doesn't appear too serious [but then again who knows other than Reid and the training staff at this point] it is strange that a minor injury would take so long to diagnose.
Ronnie Brown made an appearance and he let us know that he has no problem with backing up LeSean McCoy. Brown, a former Miami Dolphin, will likely see a decrease in his carries and touches this season, but that doesn't bother Reid who said, "you have to pick a year…every year seems a bit different [for running backs]."
Since he is a free agent he wasn't able to practice, still Reid had nothing but positive things to say about the RB.
"He's a smart kid. He's a good ball carrier. He does everything well, and he gives you a little bit of versatility that you can throw the ball…he understands the role he'll be brought in to do," Reid said.
Winston Justice is continuing to rehab his injury and progress is being made. Reid claimed that the slow progress had a lot to do with his role as the player rep in the lockout talks saying, "it just set back his rehab a little bit."
While there were praises sung for recently-signed offense tackle Ryan Harris, coach Reid didn't rule out the possibility of adding another body to the offensive line.
"I'll always take care of the offensive and defensive line," Reid said. "I think that's very important. If I see a good one out there that we can work into our cap situation, then we're going to bring him in and make him part of it."
Today also marked the first day that rookie first-round pick Danny Watkins worked out with the team. Watkins has a lot to learn and Reid made sure to use him sparingly.
"We understand he is playing catch-up here in a couple of different areas; not knowing the offense and also not being physically all-in right now. We'll ease him back in and see what he can do, and he has some work ahead of him. We'll see how it all works out," Reid said.
Reid also admitted that Watkins, a former firefighter, tried to step in after Mike Patterson had a seizure yesterday. Reid "kind of held him back a little bit," but after the initial rush Watkins helped stabilize the situation.
As for Patterson there still isn't much explanation as to why the seizure happened. Head Athletic Trainer Rick Burkholder, said "you can" have a seizure due to dehydration but would not pin that as the cause until all tests had been completed.
But in the good news department Burkholder said that Patterson is, "absolutely alert, stable, totally communicating with everybody to the point where he's joking a little bit."
It was a great sign for Eagles and Football fans alike after an extremely tenuous situation.
NOTES—–Reid had no significant comments towards Desean Jackson's holdout….Trovor Laws' is suffering from a hip flexor. The injury does not appear to be much more than a strain