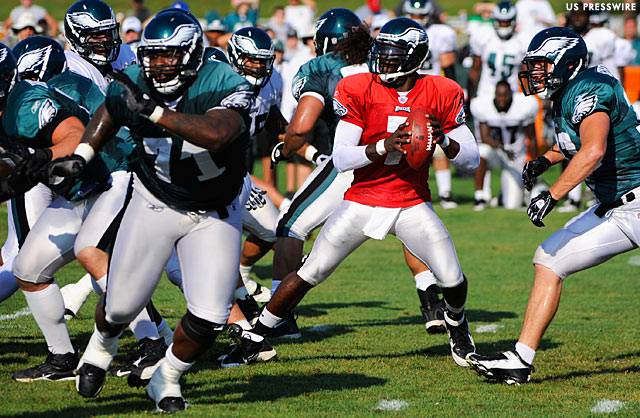 Here's a look at the offensive backfield players in the Eagles training camp, who I believe have a legitimate chance at making the game time roster.
Quarterbacks – Michael Vick, Vince Young, Mike Kafka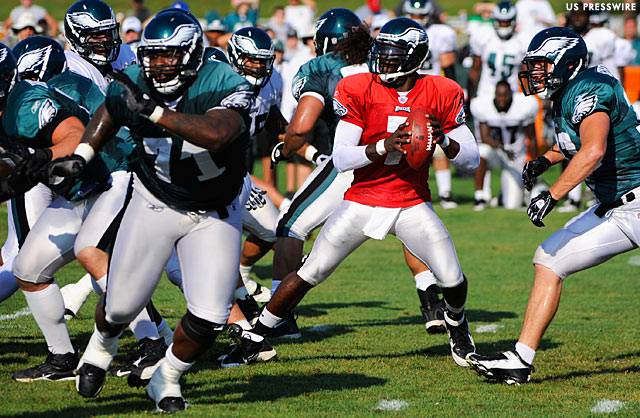 Michael Vick = Vick has shined so far in this training camp. He's made big strides in this week and a half of work. Vick has been reading the blitzes, making the adjustment with the line sliding and the remaining back being adjusted. His accuracy has been outstanding so far. Despite the great acquisitions in free agency and via trade, the progress of Vick has been the number one positive of the camp. Teams were able to slow down the Eagles offense by blitzing them. That will no longer be an answer for the quick-strike crew.
Vince Young – Young has been lost in his short time in training camp. With the lockout, guys like Young have been put in a tough situation. Expecting him to learn the offense in a week and a half with four or five practices is ridiculous. The Eagles quarterback coaches have been working on his footwork, which has made his throwing quite erratic. He's got a ways to go to get comfortable in this system and with the fundamental changes being made to his throwing motion. Still he's got to make a great deal of progress to learn this system.
Mike Kafka – Kafka has had a good camp. His arm has gotten stronger and he seems to have a great mastery of this offense. If he were called upon to start, his lack of a big time arm to get the ball deep to DeSean Jackson or Jeremy Maclin would hurt the offense tremendously.
Halfbacks – LeSean McCoy, Ronnie Brown, Dion Lewis, Eldra Buckley
LeSean McCoy – McCoy has been solid this training camp and he's put on much needed muscle. The added strength will make McCoy
a stronger runner and more effective with his straight arm. He's gotten better during his time here at running the screen play. Number 25 also does a great job with the draw because of his outstanding vision. The third-year back can do everything the Eagles need from the running back position but he needs to continue to improve his blocking.
Ronnie Brown – Brown is an outstanding ball carrier who has the strength to get tough yardage inside, but he's also got the speed to get around the corner. I could see the Birds finding ways to get the ball in his hands. Like McCoy he's a good pass receiver, who needs to improve his blocking.
Dion Lewis – Lewis is a small and quick back, who has shown good ball running skills, but he has struggled greatly as a blocker. I don't see any way that Lewis will be able to pick up the blitz. He's has good receiving skills, but he must shine on the special teams if he wants to make this football team.
Eldra Buckley – Buckley has been injured for most of the camp. He's a capable runner but not much of a pass receiver. His chances of making the team are good because of his success as a special team's performer.
Owen Schmitt, Stanley Havili
Owen Schmitt – Schmitt has been a beast in the blocking drills. He's stood up every linebacker on the team in blitz pickups. He's a decent back, but he's not much of a threat because he lacks big-time speed.
Stanley Havili – Havili has been somewhat of a disappointment. His blocking is his biggest weakness. He showed the ability to make plays as a runner and receiver in college, but he needs to make some plays in the preseason games. I know Reid would like to have another weapon at the fullback position but he's got to be able to block. Havili needs to also do something to stand out on special teams in order to make the squad.