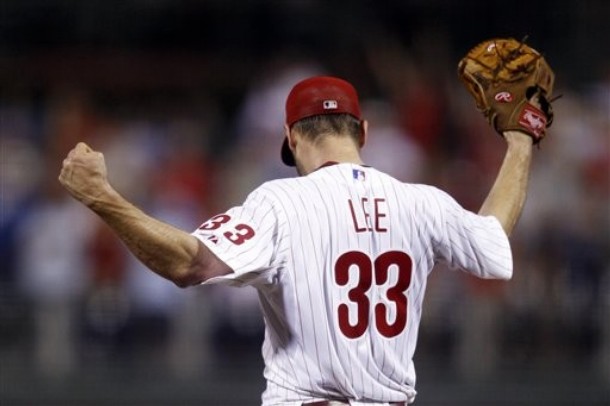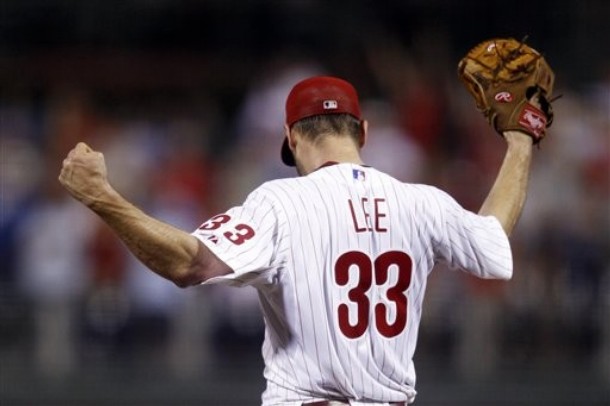 Cliff Lee is putting together another impressive streak of scoreless innings. The lefthander put together another dazzling start, nearly pitching his second consecutive shutout in a victory against the Dodgers on Tuesday night. The All-Star came an inning shy of becoming the first Phillie to throw more than five shutouts in a single season since Steve Carlton.
A high pitch count prevented Lee from going the distance. By the end of the eighth inning, the former Cy Young Award winner was at 124 pitches, too high for him to attempt to finish an additional inning.
Lee gave up just four hits and two walks in the game. He also struck out 10 batters, the 17th time in his career he has recorded a double-digit strikeout game, and the eighth time he has done so this season. Getting into some lengthy battles with the Dodger hitters would drive his pitch count up, and prevent him from attempting to finish the game and earn his sixth shutout of the year.
Lee's pitch count nearly prevented him from finishing the eighth inning as well. He began the inning by putting Rod Barajas in an 0-2 hole, but then struggled to find the strike zone, finishing the at-bat by allowing his second walk of the night. The lefthander then jammed pinch hitter Trent Oeltjen to get a key double play that gave him the extra momentum he needed to finish the inning.
What makes Lee's last two efforts even more impressive is that he has been able to do it with minimal run support. The Phillies only scored three runs for the ace in his win against the Giants on August 4th. They scored just two runs for him in Tuesday's victory.
Lee played a role in both of the Phillies runs on Tuesday. He laid down a successful sacrifice bunt that moved Wilson Valdez into scoring position early in the game, and then Lee would take it upon himself to provide the second run, hitting his second homerun of the season. That homerun proved to be difference in the ballgame. The lefthander has two homeruns in just 53 at-bats this season.
Lee has now pitched 17 straight scoreless innings. He's received a winning decision in each of his last three starts, and is starting to dominate in the same way that he did in the month of June, where he went 5-0 with an ERA of 0.21. His latest effort has helped the Phillies improve to 8-1 on their 10 game road trip, and they've now won 11 of their last 12 games.