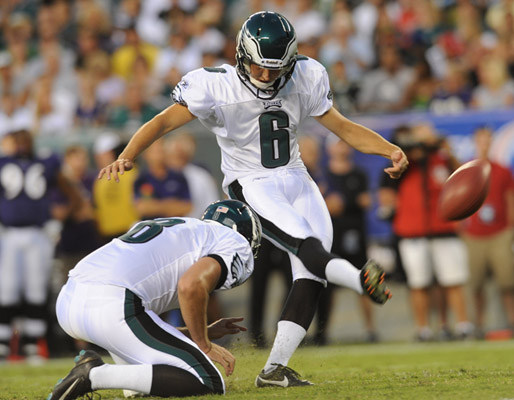 The Eagles talent on both sides of the ball is astonishing. If they're able to get Jeremy Maclin and Steve Smith healthy they will be the most talented Eagles team ever.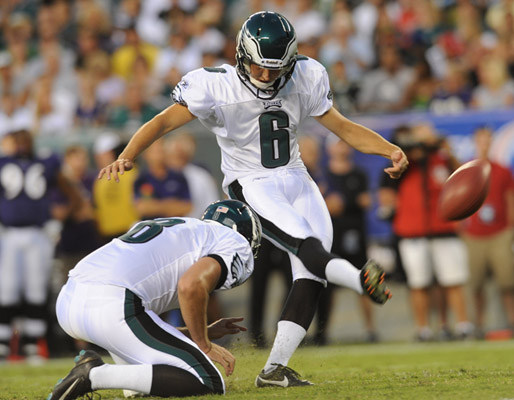 What would that mean? That means this football team needs to win the Super Bowl. They've got enough talent to win the Super Bowl, now Andy Reid and his staff must lead them to the Lombardi Trophy. It's that simple.
They should be able to blow some teams out. This squad should be able to win games on the offensive side of the ball by scoring over 40 points and on the defensive side of the ball by shutting opponents out.
The only question I have is their special teams. Why did they have to pick now to change the punter and the kicker. If you're going to change one, why change the other. Why decide to go with two rookies as your punter and kicker?
At training camp I saw new punter Chas Henry put three or four balls up into the air as high as the sky for fifty yards, then he'll shank three or four in a row. I see a strong leg, but I don't see consistency. That's not a good thing in the NFL.
This youngster will have to punt the ball in the cold with the wind swirling. If he doesn't have consistency in great weather during the summer, he's not going to have consistency during the winter with the wind swirling and ten angry Giants, Cowboys or Redskins trying to block the punt.
Inconsistency is the same thing I saw with our new kicker Alex Henery. He went through the first four or five days of training camp, kicking the ball like he was headed to the Hall of Fame. He was booming fifty-yard kicks with fifteen yards to spare. We stood on the side and watched in awe.
Unfortunately he finished the camp with a few days of dreadful performances. He would miss a kick, then miss another, then miss another one. Young players are usually not as consistent as veteran players, but head coach Andy Reid is willing to take the chance.
"I'm good with it", Reid said. "Listen, we have a couple young guys who are feeling their way out with this thing. You know, they're new in it and it's important that they get a lot of reps. So I'm okay there. I know there's going to be a good day and a bad day and I understand that right now. I always go back and mention the greatest kicker, if not one of the best kickers in Eagles history, was [K] David Akers. And David was released from a team and brought here as a backup and you saw him grow.
I hope the decisions to change the kicker and the punter doesn't come back to haunt the Eagles. They have stocked this roster with tremendous talent but decided to go with a rookie punter and a rookie kicker.
I don't think these youngsters have any idea how they're going to be treated if they misfire on a big punt or kick during the regular season or during the playoffs. If one of them messes up a kick that costs this team a Super Bowl, they're going to have to go into the witness protection program.
Keep an eye on these two because I don't have confidence in either one of them.