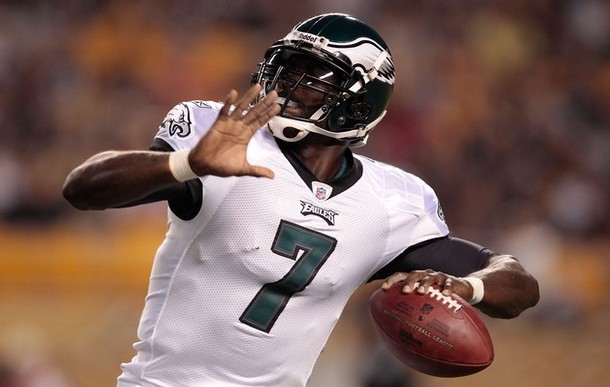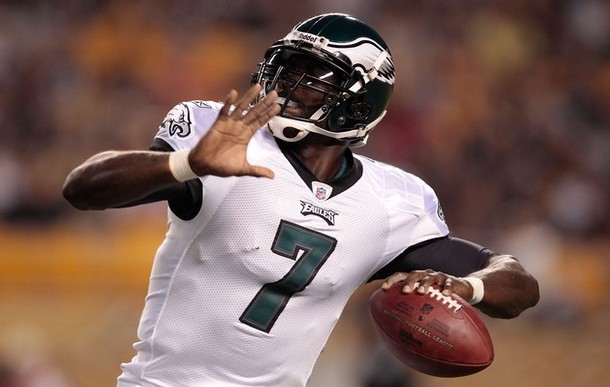 There's no question about that Michael Vick had the worst game of his time with the Eagles. The good thing is that it didn't count. Let's take a look at Vick's three interceptions.
On the first pass, Vick thought he was looking at a straight blitz where the secondary is playing man-to-man behind it. Unfortunately he didn't think about Steelers defensive coordinator Dick LeBeau love of the zone blitzes where he plays a zone behind the blitz. I don't think it was a straight zone, but Vick didn't realize there was a free safety back there.
On the second interception, Vick was staring down Chad Hall on a crossing route. The diminutive receiver started out on the offensive left side and came across the field to the right side. Vick followed Hall all the way across the field without looking anybody off.
Not only was Vick setting up the interception, Hall wasn't running away from the defender,who very easilty cut in front of him for the pick. I could understand Vick not seeing one guy, but there were two other players there in the area, who had a chance to pick off the pass.
On the third pick, Vick was scrambling around in a frenzy. During those times, he should know to run with ball or throw it away. He tried to get it to Brent Celek who was open, but one of the Steeler linebackers got his hands on it to force the incompletion.
Vick was five of 12 passing for 47 yards, with a 13.5 quarterback rating. He also threw as balls to the Steelers as he did to his own receivers.
If you want to leave a message about Philly sports to have it put up on GCobb.com, give us a call at (856) 673-6282 and leave your message. For the latest Philly sports news and updates, you can follow us on twitter (@GarryCobb).