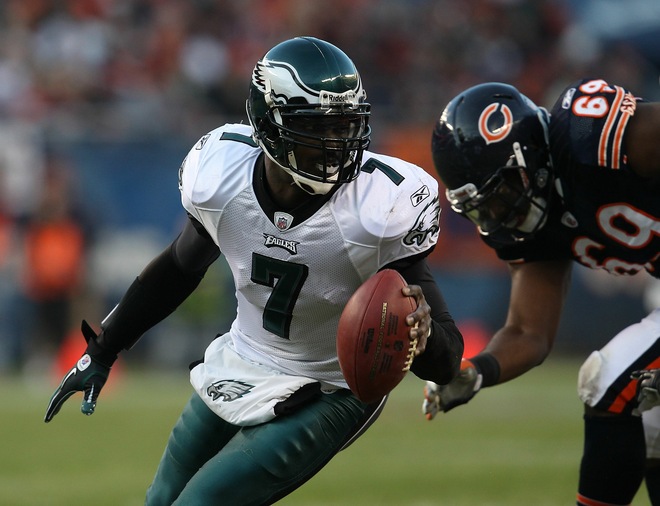 This is the first in a series of articles analyzing how the Eagles stack up against the rest of the big boys in the NFC, this time we take a look at the Bears, who made it to the NFC Championship last season where they were beaten by division rivals and eventual Super Bowl winner the Green Bay Packers.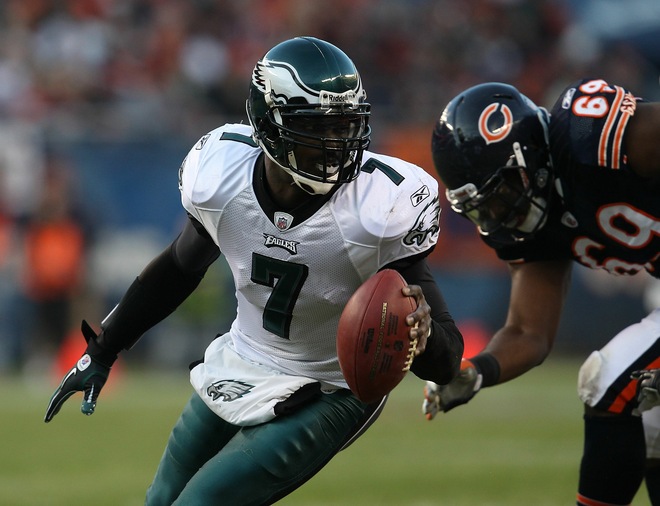 Of all the teams that have been mentioned as possible contenders this year, the prospect of the Bears' upcoming season has been met with little attention or excitement, but let's give them their due. They were, as stated above, in the championship game last year, and say what you want about Jay Cutler but he is the Bears' starting quarterback, and any team missing their number one signal caller for much of the game is going to be at a disadvantage, which Chicago was against the Packers.
Key to the game: The Eagles will eventually face the Bears in week 7 this season, and when weighing both teams against each other, there are two things that come to mind. The Eagles D-line has significantly improved this year, and the Bears' offensive line, well let's just say they're due for a lot of shape shifting. Right Guard Roberto Garza will be moving to the Center position with the Bears having release long time starter Olin Kreutz this summer. Meanwhile rookie Left Tackle Gabe Carimi won't be playing at left tackle at all, that spot is now reserved for J'Marcus Webb, and conversely Carimi will now be plying his trade at Right tackle.
Now at the risk of belaboring this one aspect of this matchup, let's just put this into perspective. The Eagles now have new additions
Jason Babin and Cullen Jenkins, on what was an already decent Eagles D-line, who will be rushing after Jay Cutler, who himself will be protected by a line that was already notorious giving up sacks. And now that the unit has been undergoing a musical chairs type change you can only expect that their issues would manifest themselves even more so against the Eagles.
It should be noted however, that Jay Cutler had a great game against the Eagles last year; the Bears won 31-26. But that win very much had the feel of it being an aberration. For one, Jay Cutler threw four touchdowns in that game, but you just have to think that such a feat will be extremely unlikely to happen again, especially when you consider the vast improvement of Eagles' secondary, and the fact that Philly was missing Asante Samuel and Ellis Hobbs on the day.
Bears could win if: Matt Forte gets has a repeat performance against the Eagles. Now this may sound like a simple statement, but it really is important. The Eagles, for all the improvements they've made this summer, can be very suspect against the run, particularly when you get past that defense line. We saw against the Steelers how the linebackers have much to learn when it comes to limiting run yardage, and although that was "just a preseason" game, if those problems manifest themselves again, the Eagles will be in trouble against not just the Bears and but against other teams as well.
It also wouldn't hurt if: Desean Jackson is subdued again. Limiting a big play threat like Jackson to 2 catches and 26 yards is a good result in coverage for any team.
Eagles could win if: Jason Babin could have a big game. In this potential matchup, Eagles fans should be looking for Babin to test rookie tackle Gabe Carimi, who, as mentioned, will be playing in a new position. Jay Cutler cut down on the interceptions last year but we all know that under pressure, the gun slinger will take gambles (see week 7 against the Redskins last season). With a secondary like the Eagles have now a good amount of rushes from Babin and company could really draw Cutler into one of his disastrous games.
It also wouldn't hurt if, the Eagles' linebackers shake off their reputation as being Philly's Achilles heel. Greg Olsen is out of Chicago, and the Bears' replacement is not as much of a pass catching threat as his predecessor. This could be a game in which the linebackers prove themselves worthy of being a significant part of the "Dream Team".
The verdict: The Eagles would definitely come into this matchup as a heavy favorites and I would pick them to justify it in a matchup against the Bears. While Vick could have his troubles against the Bears defense again, the Eagles just look like a terrible match up for Jay Cutler's style of play. I'd expect a few forced errors from the Bears and an Eagles' win.