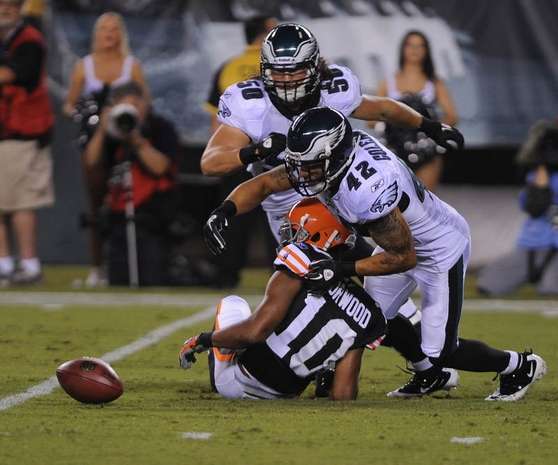 Eagles middle linebacker Casey Matthews played his best game to date and he did a good job on a number of running plays of reading the blocking scheme then attacking it before making the tackle on the ball carrier. I know Matthews felt like the entire weight of the world was on his shoulders when he stepped up in the middle during one of the early drives and put a serious lick on Browns running back Montario Hardesty.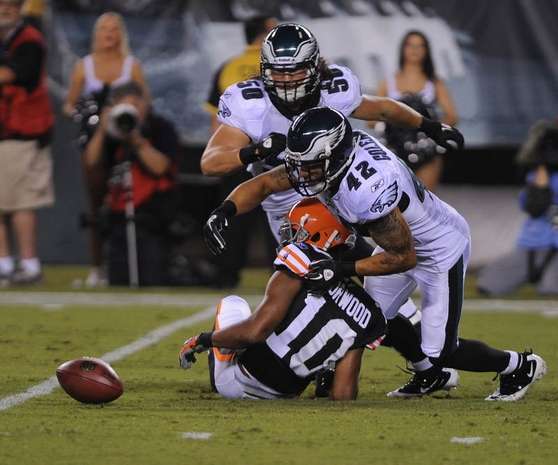 The youngster jumped up and celebrated. Everybody in the stadium knew why. I'm sure he's heard his critics. The rookie had finally put a good hit on somebody and made the type of play that he's expected and we've expected for a couple of weeks.
Matthews also made a very good play in pass defense when he ran up under a wide receiver's route while playing a zone defense. If he had been able to locate the football he would have had himself a pick six.
Eagles defensive coordinator Juan Castillo has decided to get Matthews off the field on 2nd and long as well as 3rd and long, so that he will be able to focus on stopping the run on the early downs. Fellow rookie Brian Rolle comes in as the middle linebacker on pass downs.
Each time Matthews gets in there and makes a play or two it will add to his confidence, but unfortunately the team doesn't have a lot of time to give him the chance to focus. They probably figured they were overloading the young man with responsibilities by asking him to play all three downs, call the defensive fronts then recognize everything which is being thrown at him immediately.
This was a step in the right direction, now he needs to continue down the path.
This young man isn't going to be the type of Superstar like his brother, who runs offensive tackles over and runs down running backs, but he can be a very good NFL linebacker. The fans and the Eagles coaches need to realize what he's capable of doing and let the young man do his thing without comparing him to his brother.