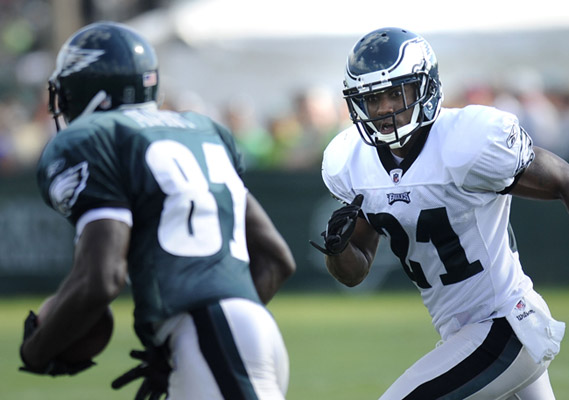 A couple of weeks ago, you read my belief that Eagles cornerback Joselio Hanson was going to be traded, now it's coming to past. There have been numerous reports that the Eagles have received offers from a couple of ballclubs for Hanson.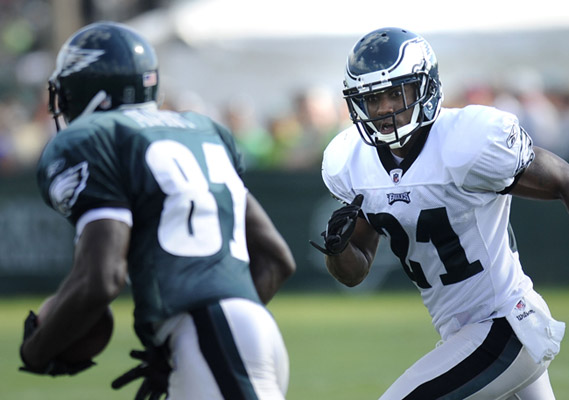 I don't know the truth of those reports because it would serve the Eagles purposes to put those reports out there to drum up interest in Hanson. I do think he has a great deal of value for specifically playing the nickel position. He doesn't have the big time speed to be a quality corner unless he's playing in a cover two system, but he's very adept at playing the nickel spot.
Hanson does a great job of beating up on slot receivers. He's not fast but he is quick and most of the time, slot receivers are more quick than they are fast, so the cornerback matches up well against them. He has a good feel for blitzing and making tackles against the run as a nickel back.
There's no way the Birds are going to keep him on the roster when he's slated to make over $2 million dollars as the team's fourth, fifth or sixth best cornerback. They are paying big money to both Asante Samuel and Nmandi Asomugha, plus in a year or two they're going to have to fork out some big bucks to Dominique Rodgers-Cromartie.
On top of those three, the Birds have a number of younger cornerbacks who are better prepared to play on the corner than Hanson.
The Eagles player personnel people feel very good about their rookie third-round pick Curtis Marsh. He's still learning but he has a tremendous upside. Trevard Lindley is in his second-year and he has tremendous combination of size and speed. Then you have another second-year corner in Brandon Hughes, who has turned a lot of heads in camp.
Hanson is a better nickel back than any of these youngsters, but I would prefer them on the corner in man-to-man coverages with no help over the top, than putting the veteran out there who have the speed to run with elite wideouts.