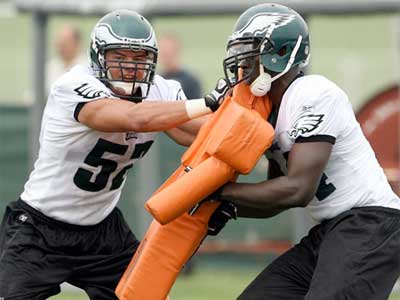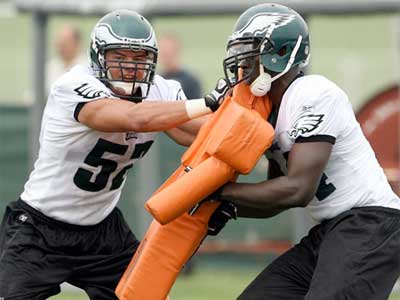 The following players were cut today by the Birds: OL Reggie Wells, RB Eldra Buckley, WR Sinorice Moss, WR Chad Hall, DE Daniel Te'o-Nesheim, LB Greg Lloyd, OL Fenuki Tupou, S Jamar Adams, WR Johnnie Lee Higgins, S Marlin Jackson, OL Mike McGlynn, TE Donald Lee, DT Anthony Hargrove, DT Derrick Landri, OT Austin Howard, CB Joselio Hanson. OT Ryan Harris waived/injured.
I was surprised that the Eagles decided to release last year's third round pick defensive end Daniel Te'o Nesheim. I never thought he was much of a player, but I thought the Birds would stay with him longer because they drafted him.
Ryan Harris was waived with an injury settlement.
Eagles wanted to trade nickel back Joselio Hanson, but they were unable to and therefore they had to release him.
Wide receivers Chad Hall and Sinorice Moss were both released which could mean that veteran Steve Smith will be ready to play in game one against the St. Louis Rams.
The Birds have released defensive tackles Derrick Landri and Anthony Hargrove. Offensive tackle Austin Howard has been let go. He's huge and not Howard Mudd's type of offensive lineman.
To no one's surprise, center/guard Mike McGlynn was let go by the Birds.
Marlin Jackson was let go. He has endured quite a few injuries since he has been with the football team.
Veteran tight end Donald Lee was let go. He had played for years in Green Bay and knew the offense quite well.
Running back Eldra Buckley was let go and we all know that he's a very good special teams player. Johnnie Lee Higgins didn't do much as a punt and kick returner. Greg Lloyd didn't seem to have the speed that the other Eagles linebackers have on the roster.