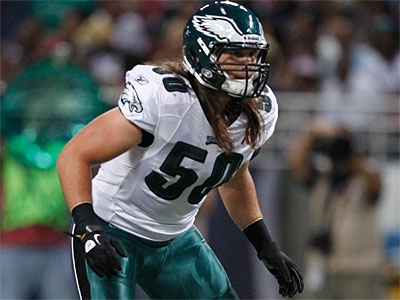 The entire Eagles coaching staff and roster knows what the Falcons offense is going to do on Sunday, but nobody knows exactly how they're going to do it. We know Atlanta is going to attack the Eagles run defense by handing the ball off to their big diesel running back Michael Turner.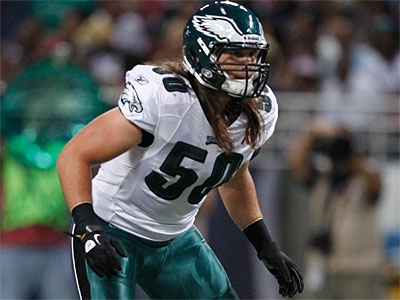 Yesterday during his weekly Wednesday news conference, Andy Reid had to admit that the Birds run defense needs to improve in order for the Birds to stop Turner and the Falcons.
"Turner is a phenomenal player", Reid said yesterday. He's a heck of player and he's going to gain a couple yards. You know that going in. He knows how to do that. But at the same time we've got to make sure that we work to secure things up and get better in that area. They're going to continue to give it to him, and they should, he's a heck of a player."
Rookie middle linebacker Casey Matthews knows the challenge he and the team's run defense will face on Sunday when they try to stop Turner.
"I think he's the leading running back in yards after contact in the league the last 2 years," Matthews said of Turner. "He's going to be tough to bring down. He's got thick legs, and he knows how to use 'em. Gang tackle, and everybody rally to the ball."
Last year the Eagles got off to a quick start and jumped out to a big lead against Atlanta and it took Turner out of the game, but he still gained 100 yards on ten carries. You know Reid and offensive coordinator Marty Mornhinweg will be looking to strike quick again this year with all of their explosive weapons. The coaches know that their defense is built to play with a lead, rather than from behind.
It will be a much tougher job this time around in the Georgia Dome if the game is close or the Falcons get a first quarter lead. Early on everybody's eyes will be on Matthews as he battles Turner and the Falcons big offensive linemen while standing on that island called the "Wide Nine".
The Falcons have to be salivating to get a shot at this kid with Turner attacking him and the Eagles defensive ends lined up wide. Matthews must feel like he's got one defensive end lining up in Center City and the other is down the shore. Turner and the Falcons are going to gain some yardage on the ground, but will they be able to control the game and stay up with the Birds high-scoring offense while doing so.
Early on in the yesterday's session with the media, Reid let us know that Matthews would be starting again on Sunday. Big Red was trying to be positive about the play of the youngster and the other Eagles run stoppers against the Rams while knowing they will have a bulls-eye on their backs on Sunday.
"Well, you know, I thought in general the defense improved as it went on. I thought, obviously we started off slow, with the first run, and then the next time they came back and tried that same run it was a two-yard gain as opposed to a long one, touchdown. So, you know, the thing I look at is progress especially with young players. I thought that's what I saw from all our young guys."
Matthews emphasized the positive when he was questioned about their performance against the Rams running game yesterday.
"As a defensive unit, it was a little slow to start; you can expect that, especially the first game of the year, but once we made the adjustments, we felt the second half we came together and shut down what they had for us," Matthews said. "We can always play better. There's always stuff you can learn from."
His fellow linebacker Jamar Chaney came to his defense, while emphasizing the fact that last week was the young linebacker's first NFL game.
"You can't compare him to all the other middle linebackers in the league, or nothing like that," Chaney said. "If you're going to compare him to somebody, compare him to all the other rookie linebackers starting. He's the MIKE linebacker, calling plays. I don't think there's any other rookie linebacker doing that for a defense. So I think he did pretty well."
Matthews has to be wondering how he got himself into this position. First, he was shocked when he found out he was the team's starting middle linebacker after arriving at training camp.
You could imagine how he felt when he found out that each of the Eagles defensive ends would be lining up on the sidelines and his job was to fight off these big offensive linemen and make tackles. He's just not big or quick enough to beat these big offensive linemen and get off these blocks to make tackles.
I think they need to use Brian Rolle at the middle linebacker spot if they're not going to move Chaney back to that position because Rolle's quickness would make him difficult to block for the league's big offensive linemen. Rolle is only 5'10" 235 but he's explosive and quick as a cat.