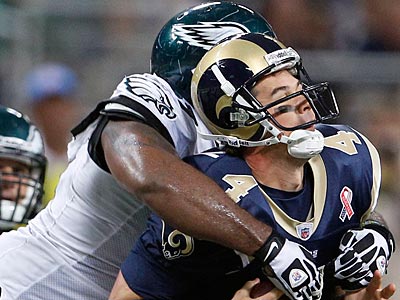 The importance of the first quarter of this game can't be overemphasized. You know how it's going to affect the Falcons ability to put the ball on the ground and control the clock. If they get ahead they can be conservative. If they fall behind there will be pressure on them to throw the ball.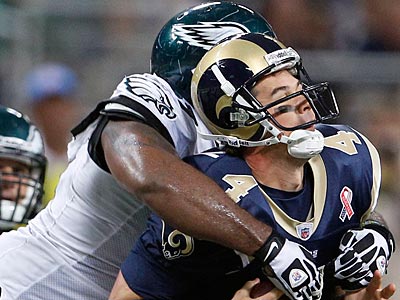 Everything about the Eagles defense is designed to stop the pass and not the run. As much as I've talked about how the Eagles defense is vulnerable to the run, they are stacked up to defend the pass. Defensive line coach Jim Washburn has done a nice job of putting together not one, but two defensive lines to rush the quarterback. He's got every guy who lines up on the defensive line playing with tremendous intensity and desire to get to the quarterback.
Washburn has a platoon system that fires those fastballs which Reid always likes to talk about. Trent Cole, Jason Babin, Mike Patterson and Cullen Jenkins start the game. After about four or five plays, they're replaced by Darryl Tapp, Juqua Parker, Trevor Laws and Antonio Dixon.
On every play the Eagles have four defensive linemen intent on getting to the quarterback. His platoon system keeps his guys fresh, rested and hungry about getting to the football.
"Everybody here is capable of starting", Jenkins said yesterday. His group tallied five sacks on Sam Bradford last
week.
One guy plays three or four snaps then another guy jumps in there and continues the attack. It's like a tag team, which I remember seeing as a kid when I was looking at wrestling.
"It's four plays in, four plays out, sometimes it's six plays in, six plays out, and sometimes it's eight," Cole said. "But we're going in there, it's all out and then, bam, you've got somebody fresh coming in.
"It's always nice to know that you get in, you go hard and you get out," defensive tackle Cullen Jenkins said. "You're not out there trying to pace yourself, and that's why he has it like that. He wants guys fresh, he wants guys going at it, and it's good for us."
The Rams were getting the best of our defensive line when they started out running the ball, but once Juqua Parker returned that fumble for a touchdown and the Eagles took a 14-7 lead, St. Louis started changing their attack by throwing the ball more. Once they started throwing the ball, they played right into the Eagles hands.
After a while, the defensive line platoon started to wear down the Rams offensive line and when the fourth quarter arrived, they were still going strong and the Rams were wearing down.
"We didn't fatigue," Cole said. "I think the Rams fatigued. I saw it. I don't know what everybody else saw, but I know what I saw. I'm not saying we were at our best, but we were the ones pretty much on top later in the game."
Jenkins knows that they're going to give the Eagles a major dose of Michael Turner, so the defensive line is prepared to be disciplined in their gaps although they'll still be playing the run on the way to the quarterback.
"Having played against him (Turner) last year twice", Jenkins said. "Turner is a tough back. You've got to make sure you're getting him down and make sure you're got a pursuit to help. It's going to be our biggest focus going into the game to stop the run".
If the Atlanta Falcons make the mistake of falling behind the Birds, their offensive line is going have to deal with "The Platoon". They'll be lined up out there in that "Wide Nine" and they'll be flying off the line of scrimmage at the snap and getting good hits on Matt Ryan.
The "Wide Nine" alignment seems to allow the defensive ends to get shots on the quarterback where they're able to run right through him and deliver punishing shots.
Washburn and his boys have to make sure not to have too much success getting hits on the quarterback, or the competition committee up in the NFL office in New York may decide to make that "Wide Nine" illegal.