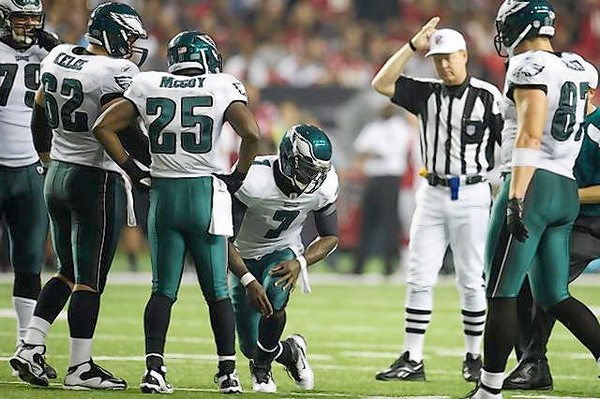 Your guess is as good as mine about who will be the Eagles starting quarterback on Sunday afternoon. It would be feasible that each of the three Eagles quarterbacks could start on Sunday. Of course we hope that the starter Michael Vick, is able to play, but there's guarantee that he will.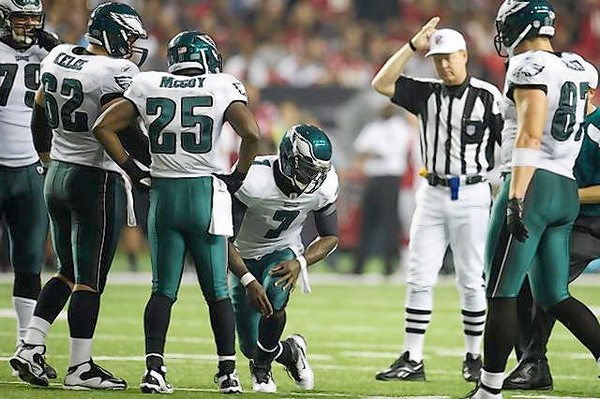 Vick was trying to convince the team's coaches and trainers that he could come back into the game on Sunday night, but of course they refused to let him. Team head trainer Rick Burkholder said on Monday that Vick was clear-headed after the game which is a good sign. They say it was a mild concussion, which should enhance his chances of being the starter against the Giants.
Head coach Andy Reid said he talked to Vick on Monday and he felt fine. Vick believes he can and should play on Sunday afternoon, but that decision won't be in his hands. For that reason I don't think he will get the majority of the reps in practice this week.
If he is cleared to practice on Wednesday or Thursday, I think he will play. If he's not cleared until Friday or Saturday, I think his chances of starting will be much less. Remember he can't be cleared solely by the Eagles physician. An independent neurologist will have to give him the okay before he can play.
Last year the Eagles cleared wide receiver Jason Avant to play in a game just a week after he suffered a concussion, so it wouldn't be a shock if he plays on Sunday.
Vince Young has been coming back from a hamstring injury. I think he can play, but there's no telling what will happen to his hamstring once he tries to take off and run at full speed. If he does play, you know that using his legs to run and escape pressure is a big part of his game. If he can't do that then he won't be operating at any where near 100%.
I don't think Young will get the nod over Kafka because he hasn't been practicing for weeks since he strained his hamstring. He was getting more comfortable in the offense during the preseason, but not being able to take any snaps for a couple of weeks can't have helped him.
Mike Kafka looked very good during his time on Sunday night. He did a great job of making good decisions and accurately delivering the football. Kafka came to the line of scrimmage, identified the blitz look, then he got the football out of his hands.
Kafka has shown that he can do the job. He's doesn't have the strongest of arms, but he proved on Sunday that it's strong enough. I loved that throw he made on the corner route to Jeremy Maclin.
I think Kafka is going to be the starter on Sunday with Young backing him up and possibly Vick as well.