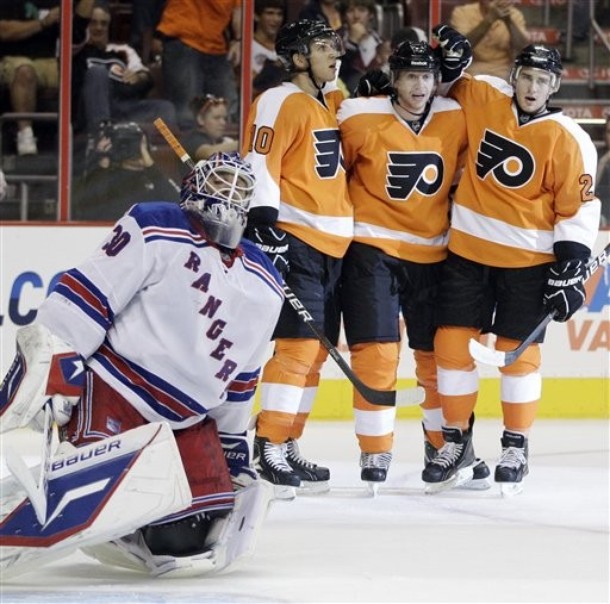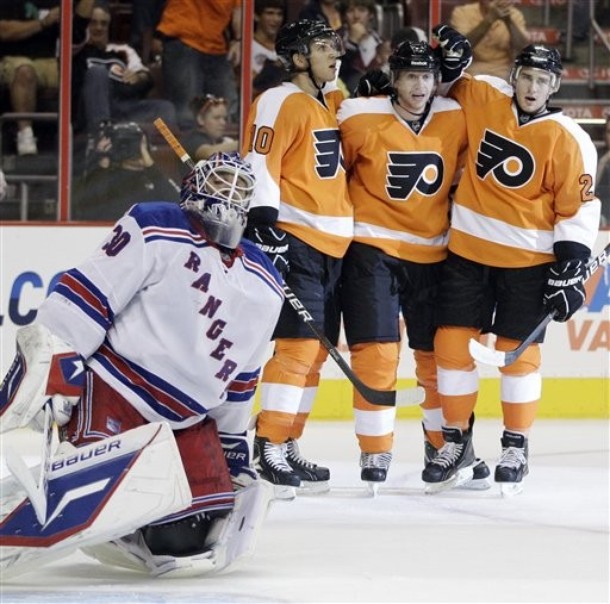 The NHL "announced" earlier today that the Philadelphia Flyers will face off against the New York Rangers at Citizen's Bank Park on January 2, 2012- a game that has been unofficially confirmed for about six months. The only two pieces of information that fans are still anxiously awaiting- the look of the official Winter Classic jerseys and ticket information- are still unknown.  In what may have been a showcase of things to come, the Flyers edged the Rangers tonight in a hard-hitting 5-3 preseason win in Philadelphia.
My thoughts on the game:
Jaromir Jagr scored the first two Flyers goals of the game on powerplays. Although it is worthwhile to note that both occurred when the Rangers were down to three-men disadvantages, Jagr's passing and shooting were crisp and seemed to control the pace of the puck cycling. He may not have the speed he used to at even strength, but his usefulness on the powerplay can't be stressed enough.
Matt Read, utilized in all situations on the ice, further cemented his roster spot with a powerplay goal. I refuse to predict a blockbuster season for the rookie, but his usefulness in so many situations as well as his defensive responsibility is promising.
Braydon Coburn gave the Flyers a 4-3 lead that the Rangers were not able to overcome. Heading into a contract year, Coburn is a player that could end up being too costly to retain next season if he has a stellar year.
Wayne Simmonds, who tallied the empty netter, got caught up with Sean Avery early in the game. Avery took a cheap shot with Simmonds when he was down on the ice, as Avery is prone to do. The two eventually dropped gloves, although Avery immediately turtled, as he is prone to do.  Unfortunately, Rangers beat writer Andrew Gross has confirmed what many fans thought they lipread on TV- Simmonds called Avery a "homophobic slur." For a man who had a banana thrown at him less than a week ago, it's disappointing to hear he would so quickly throw out a slur the other way.
Harry Zolnierczyk was given a longer look today, playing on a line with Danny Briere and Jakub Voracek. Z shares more than a passing resemblance to former Flyer Darroll Powe in his relentless forechecking and speed, but was otherwise invisible on the ice. It was promising to see that he has NHL potential, but he's not there yet.
Brayden Schenn left the game in the third period with an "upper body injury." The Flyers will release more information on it tomorrow.
I recognize that Ilya Bryzgalov has the starting goaltender contract, but he has let in six goals in two preseason games. Sergei Bobrovsky has let in one.  I honestly believe Bob will get more starts this season than people think (25-30).
Finally, the biggest story of the game was the boarding penalty and subsequent game misconduct called on Tom Sestito after he crushed Rangers prospect Andre Deveaux. The hit was almost identical to that which earned Jody Shelley a ten-game suspension and is guaranteed to be reviewed by Brendan Shanahan. That makes three Flyers with blatant boarding penalties in five games. Factoring in Sestito's otherwise liable play in his previous appearances and it's safe to say he isn't making this team.
The irony of this preseason is that the one player who I thought might not be mature enough to handle the agitator/enforcer role- Zac Rinaldo- may now win it by default. His fight with Ranger forward Dale Weise had to be stopped by referees early because Rinaldo almost immediately pulled the jersey over the head and went Chris Brown on him.
While he otherwise stayed out of the penalty box, Rinaldo shoved Rangers defenseman Michael Sauer hard towards the board in the first period. The fact that Sauer's stick clipped Rinaldo in the face in the same play may have saved him from going to the sin bin, but Sauer left the game with a shoulder injury and is now questionable for the start of the season. Coach Peter Laviolette also limited Rinaldo to 7:24 of ice time, just over half of what Zolniercyzk earned.
In other words, Rinaldo may make the team, but there are still plenty of questions surrounding his immediate future in the NHL.
The Flyers don't play again until Thursday, when they take on the New Jersey Devils. It will be interesting to see who remains in training camp until then.
For the latest Flyers news and updates, you can follow me on twitter (@JoshJanet).