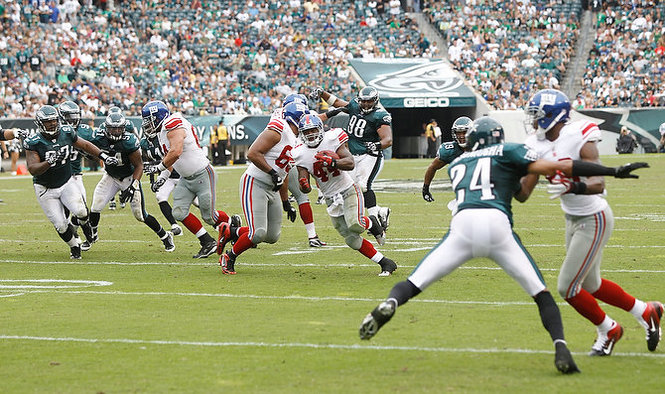 In their two losses the Eagles have gone into the fourth quarter with the lead, but failed to hang onto it and failed to score a single point in the period. Their bevy of new defensive players Nmandi Asomugha, Jason Babin, Cullen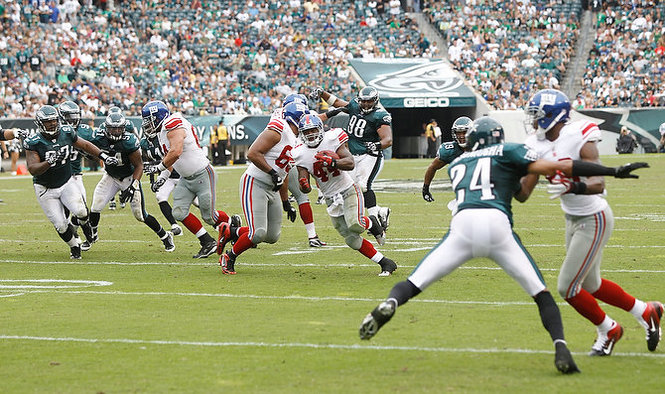 Jenkins, and Dominique Rodgers-Cromartie have been unable to make a difference with the game on the line.
They were outscored 14-0 in the fourth quarter in Atlanta and 15-0 in the fourth quarter against New York. The defense allowed two touchdowns to be scored in each of those games. So with the game on the line, they have been unable to come through.
Last week it was Michael Turner and Tony Gonzalez putting the dagger in them, this week it was Victor Cruz and Ahmad Bradshaw doing the damage.
During those times, the offense has been unable to score and the defense has been unable to hold the lead and injuries have played a major role in this stats.
The absence of enough healthy defensive linemen to continue the platoon system seems to have allowed the Birds
defensive line to get tired at the end of the both games. Their pass rush pressure has been missing at those times. Defensive ends Juqua Parker and Darryl Tapp have missed the last two games and it's made Trent Cole and Jason Babin have to play more snaps.
Vick has been hurt in the last two fourth quarters for the Birds, so it's understandable that it would have a negative affect upon the offense, but that doesn't mean they should score zero points.
Mike Kafka did a good job during the Atlanta game, but he was awful against the Giants. In both games he was unable to get the job done in the fourth quarter.