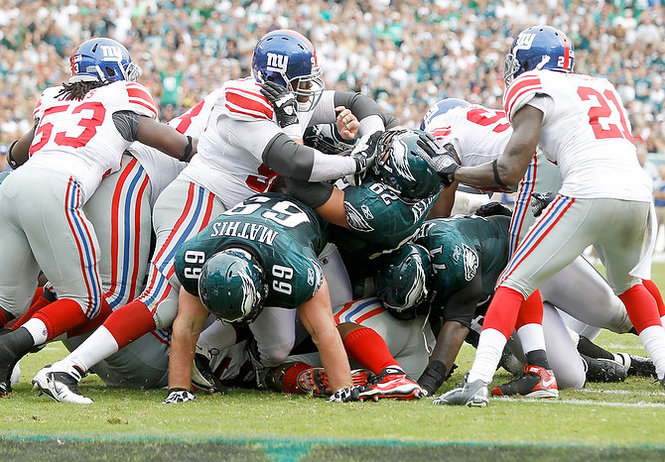 The Philadelphia Eagles purposely got smaller on the offensive line when new offensive line coach Howard Mudd took over.
They've got a young rookie center, Jason Kelce, who is only 280-pounds. He's a very athletic center, who is able to get out on screens and he has the speed to get outside and pull from his position. This youngster can lead ball carriers around the corner and pick off defenders in the process.
The young man is very good at getting positions on the nose tackles, when he's out in the middle of the field, but he's not nearly as capable of pushing the big 330-pound guys off the ball, when they're intent blasting straight ahead. It's not a shock to me that this isn't his strength.
The fact that he's only 280 pounds makes him a liability on short yardage and goalline, if you're going run over him right up the middle.
The Eagles two guards aren't massive either and blowing people off the ball isn't their strengths. Left guard Evan
Mathis is 300 pounds and right guard Kyle DeVan is about 305.
On goalline the Giants put all of their big boys on the field and had them burrowing straight ahead on the snap of the ball. The Eagles center and guards were battling 320-pound Chris Canty, 323-pound Linval Joseph, 320-pound Jimmy Kennedy and 300-pound Rocky Bernard.
I gave you this information, so that you could understand why I'm wondering why the Eagles would run four goalline plays right up the middle when they know that the guys they have at the center and guard were at a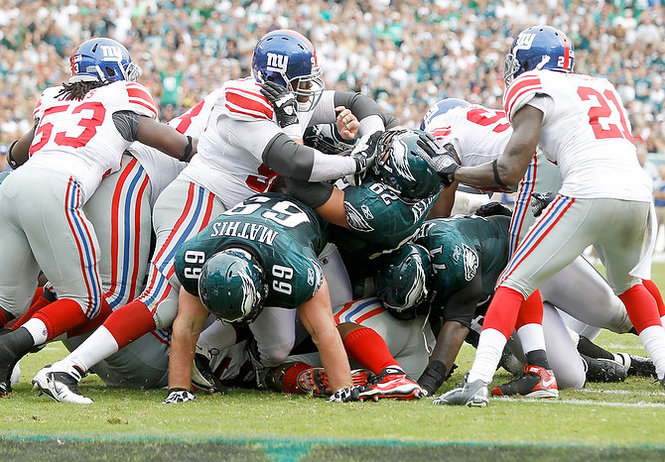 disadvantage size-wise. In addition, these guys aren't very good at pushing the pile and blasting people off the line of scrimmage. Their strength is speed and mobility.
Not only were the Eagles center and guards not getting any push, they were getting pushed into the Eagles offensive backfield. Fullback Owen Schmitt could have scored on the first goalline play if he had been able to keep his balance better, but he's a fullback because he's not a good ball carrier.
On the second carry by Schmitt, he was hit three-yards into the backfield on the final short yardage play. The Giants penetration made the idea of running up the middle seem like a bad one.
They have the fastest quarterback in the league, Michael Vick, but they've got him running a quarterback sneak twice.
They've got one of the most elusive halfbacks in the league in LeSean McCoy, but he doesn't even touch the ball. Running up the middle four times in a row made not sense at all. Maybe you fool them on the first play, but after that you've got to get outside or throw the ball. Getting outside on a pass or run option would have made the most sense.