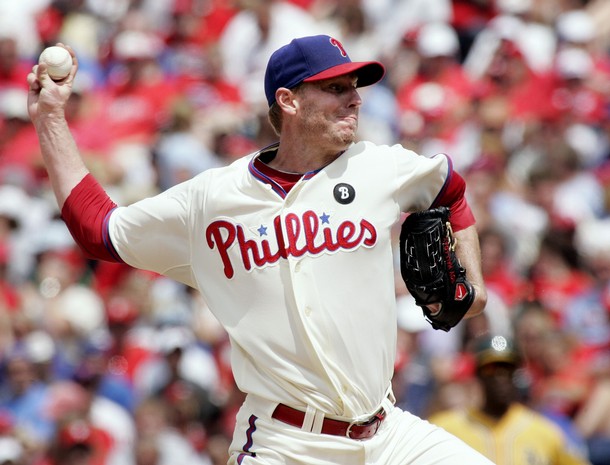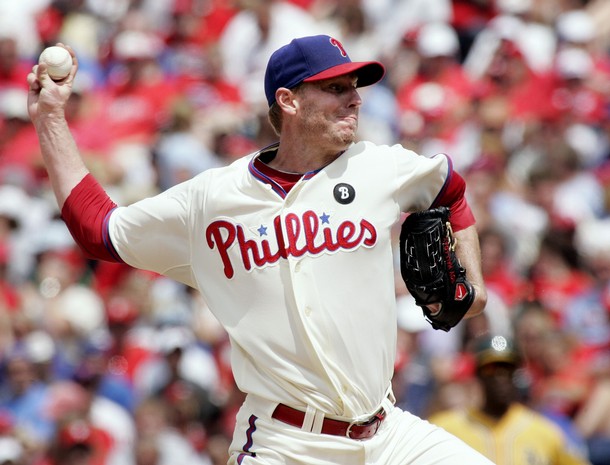 The 2011 Phillies will always be remembered because of their vaunted pitching staff, the core of which the team was built around. Not only has this unit looked great on paper, but they've delivered in reality as well, leading all of baseball with a team ERA of 3.02 (lowest team ERA since the L.A. Dodgers had a 3.07 in 1991), giving up a league-low 529 runs, and allowing a league-low 404 walks while striking out 1299. The pitching staff has been the engine that has powered the team to a franchise record 102 wins, and the team will look to the pitchers to be their biggest strength once again in the playoffs.
There is a lot to be optimistic about for this unit as October baseball begins, but there are also several question marks as well.
On the optimistic side, let's look at the starting pitchers. Game 1 pitcher Roy Halladay is 2-1 with a 2.45 ERA in three career postseason games, all last season. He threw a no-hitter in his first career playoff appearance, and opponents hit just .175 against him in October of last season.
Following Halladay is an arguably better pitcher, lefthander Cliff Lee. In the last two seasons, Lee has been arguably the most dominating starter in the playoffs, amassing a 7-2 record with a 2.13 ERA, 80 strikeouts, and allowing opponents to bat just .194 against him. Phillies fans fell in love with the ace after he went 5-0 with a 1.78 ERA for the Phillies during the 2009 playoffs. There is no pitcher on the staff I have more confidence in than Lee. He's a player who thrives on performing in big moments, and part of the reason he wanted to return to Philadelphia was to perform in this atmosphere in October.
Pitching after the two former Cy-Young Award winners is a former World Series MVP, Cole Hamels. Hamels went 4-0 with a 1.80 ERA, and was one of the most important Phillies during the 2008 run.
Just stop for a minute and consider the accomplishments in the playoffs of the top three pitchers in the Phillies rotation. Three pitchers, all with great, unique postseason achievements and performances. Each is worthy of being a number one starter, each is capable of carrying the team on their backs. No other team can even pretend to be able to match up well these three aces.
Fourth starter Roy Oswalt is an interesting case. Though he's gotten his fastball up to 95 mph in his last few starts, he hasn't been reliable this season. It's possible that if the Phillies were behind in the series by the fourth game that Charlie Manuel might decide to skip Oswalt and go back to the top of his rotation. I believe the veteran righthander will have a strong postseason, if he pitches. He's worked hard to get over his chronic back injuries to get himself in a position to contribute and make a run at a ring. There was a belief among some that the former Astro wasn't entirely passionate about baseball, and could easily walk away from the game. I don't believe that to be true, and if anything, Oswalt will be motivated even more by the fact that he has become a forgotten man in this rotation.
The concerning element of this staff lies in the paper-thin bullpen. Ryan Madson has finally established himself as a legitimate closer (32 saves in 32 opportunities), and he is the only pitcher out of the bullpen that I have total confidence in. Beyond Madson, the Phillies have no idea what they're getting from any of the other relievers.
Antonio Bastardo had been the team's primary eighth-inning man for much of the season, but has really hit a wall in September, posting an 11.05 ERA during the final month of the season. The Phillies have tried to rest him to allow him to recover some strength, but I don't know that it will be enough.
Another rookie who had been an important piece of the bullpen all season, Mike Stutes, has also been struggling heavily. He had a woeful August, and struggled throughout September. He finished the season on a strong note, with three scoreless appearances, but it's not even a lock that he makes the postseason roster.
Former closer Brad Lidge could become an important part of this unit in the playoffs. He posted an ERA of 1.40 in 25 appearances this season, and allowed only three earned runs. His is the only reliever other than Madson with significant postseason experience, and could become the team's main setup man because of the concerns surrounding Bastardo. Lidge doesn't exactly inspire much confidence himself. On any given night, if his control isn't in top form, he can get hit around or get himself into trouble with walks.
The remaining candidates for spots in the bullpen don't seem likely to see much action unless a game goes to extra innings. Vance Worley and Kyle Kendrick aren't ideal setup men, and Joe Blanton may even be in the picture if the  team decides to go with him over Stutes.
As strong as the starting pitching is, the bullpen is a massive concern. With a shortage of reliable arms, the Phillies could be in some tight spots if the starters don't go at least eight innings. However, if any pitching staff is capable of doing so, it's this group.