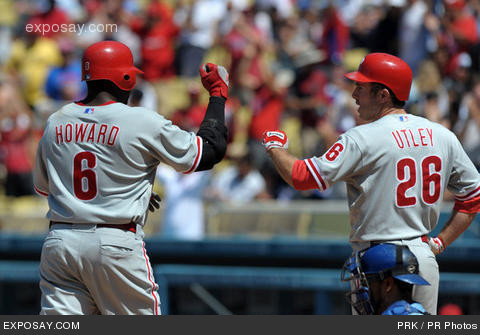 After receiving the satisfaction of eliminating the Braves from playoff contention, the Phillies focus has shifted to the playoffs. Philadelphia's infield has had a less-than-stellar year plagued with injuries and mediocre stats, but it's playoff time, all the under-achieving can be erased with one simple World Series ring.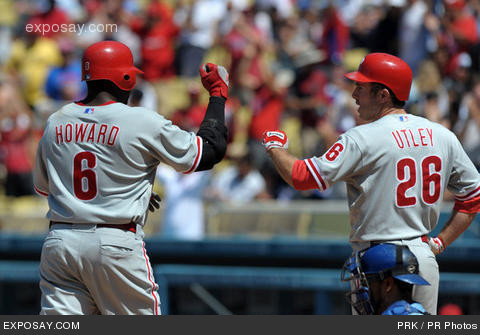 Where else to start than at first base, Ryan Howard has been the one infielder who has been able to live up to his name this season. Howard was tied for sixth in the National League with 33 home runs and he finished third in the league in RBI"s with 118, despite missing quite a few games down the stretch with a heel problem.
He's received criticism for having that third strike called on him last year against the Giants, but Howard has been a clutch performer in the playoffs and World Series, sporting a .278 career post-season average. Charlie Manuel and company need him to do what he does best and that's drive in runs.
The Phil's first baseman took off following the All-Star Break. Even after struggling with his contact hitting in August, (.225 batting average) Howard crushed eight homeruns with 22 runs batted in. The story of his post-All-Star success was the month of September.
The 31-year-old comprised seven multi-hit games and posted a .290 batting average finishing the season just as
hot as he started in April. Although his on-base and slugging percentages dropped from last season, you can't take anything away from the solid year he had.
Not only has Howard carried Manuel's club at the dish, he has stepped up his game in the field as well. The former MVP cut his error total from 14 to nine which is the least amount of miscues he has committed in a full season. Improving on fielding is a very tedious task and comes with repetition and no substitution for hard work; but the training he has been putting in every offseason for the past three years is finally starting to pay off.
This season the versatile star has been making plays he has no business making and has been routinely getting to balls that would have very easily skipped past him even last year. Howard's significant defensive upgrade only helps show his desire to succeed, both on offense and defense. Fact-of-the-matter, the three-time All-Star picked a great time of the year to get red hot.
Forty-five feet to the left of Manuel's first baseman, Chase Utley stands at second base. Utley played in just over 100 games this season after he suffered a knee injury in April and a concussion cost him a couple of games in September. But don't underestimate what the Pasadena native can bring to the table for the Phillies in the post-season. Despite finishing the year with his worst month since 2009, Utley ended the season with four hits in the final two games against the Braves.
After Utley was sidelined with knee problems, his speed was a constant topic of concern, but Chutley finished the year with fourteen stolen bases (one more than last season) and 21 doubles. His speed clearly isn't a problem, but the Phillie didn't see the kind of success in the second half of the year fans were hoping for.
His mediocre .245 average since July's festivities is embarrassing and his 26 RBIs doesn't bring much more to the table. Moving Utley to the two hole should do wonders for him and it has already proven with his four hits in the final series of the year. I know it has only been four games, but Utley has five hits since Manuel's switch and the Phillies haven't lost yet.
The four-time Silver Slugger hasn't been a power hitter since 2009 and he will flourish batting second in Manuel's revamped lineup. The switch was necessary for Philadelphia, especially with the threat Hunter Pence brings to the lineup.
It's very hard to expect Utley to be "Mr. Clutch" this post-season, especially with a .237 average with runners in scoring position. But if the Phillies expect to come home with a trophy this post-season, they need their second baseman to figure out his swing and come through with some timely hits for his club.