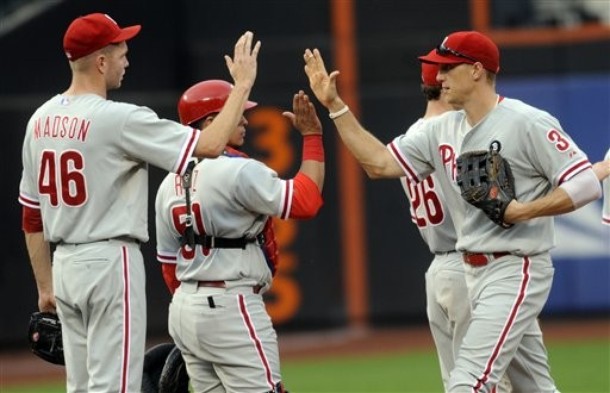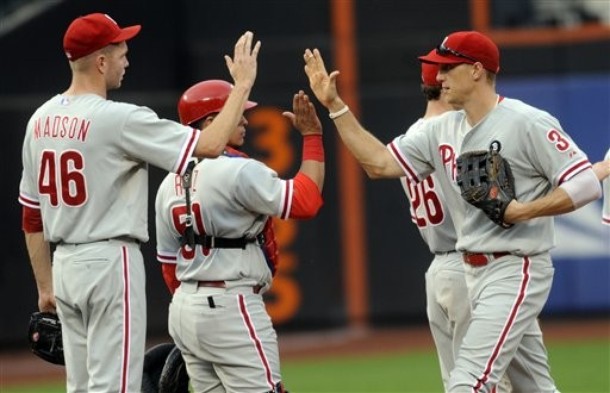 It's here! Red October has finally fallen upon us. This season has been nothing but monumental for the Philadelphia Phillies. Between their historic record of 102-60 and their star-studded pitching staff to go along with their impressive offense, the Phillies' 2011 season has been a joy to watch.
But now, thanks to an astonishing turn-of-events on the final day of the season, the Phillies will be playing the St. Louis Cardinals in the NLDS, and not the Arizona Diamondbacks after weeks of speculation that the D'Backs would be heading to Citizens Bank Park.
With the series beginning Saturday, let's do a quick rundown of each team and how they stack up:
Catcher: Yadier Molina vs. Carlos Ruiz
Here's a great example of statistics vs. behind-the-scenes production. Molina has strung together quite an impressive season, batting .305 with 14 HR's and 60+ RBI's. He has been red-hot these past two months, batting over .341 in August and September. Ruiz does everything a catcher should do. He is, arguably, the best at managing a game and working with his pitchers, but he doesn't put up the offensive numbers to elevate his name into the ranks of a Molina or Joe Mauer. However, Ruiz is terrific at what he does, and so is Molina; this will be an intriguing matchup throughout the series as both Molina and Ruiz attempt to guide their pitchers through the opposing lineups.
Advantage: St. Louis
First Base: Albert Pujols vs. Ryan Howard
There's numerous occasions when Howard would easily be the best first baseman in a given series, however, Pujols is not your everyday type of player. "The Machine" is an unbelievable player to watch and he continues to put up MVP-like numbers season after season. Pujols batted .299 this season with 37 HR's and 99 RBI's in 147 games played. On the other hand, Howard batted .253 this season with 33 home runs and 116 RBI's. The power numbers are very similar, but the fact that Pujols — who is one of the best all-around hitters in baseball– is not a prototypical slugging first baseman who can only produce power numbers makes him a scary opponent to face in the batter's box.
Advantage: St. Louis
Second Base: Skip Schumaker/Ryan Theriot vs. Chase Utley
This one isn't even close. Theriot made the move to second base after the Cards acquired Rafael Furcal at the trade deadline. Since the move, Theriot has been putting up decent numbers; on the season, he is batting .271 with 47 RBI's. Schumaker has put together a pretty solid season — .283 with 38 RBI's and a .333 OBP — but he's no where on the level of the All-Star caliber Chase Utley. If not for an injury that plagued him early this season, Utley would have put up his usual numbers. In 103 games, Utley batted .259 with 11 home runs and 44 RBI's. As soon as he returned from injury, the Phillies began to find their stroke. The effect he has on this team when he is on the field is off-the-charts, and as long as he can remain healthy throughout the postseason, Utley will be a major contributor for this lineup.
Advantage: Philadelphia
Shortstop: Rafael Furcal/Nick Punto vs. Jimmy Rollins
Furcal's status for the upcoming series is questionable as he is dealing with a nagging left hamstring injury. His replacement, Punto, is batting .278 this season with 20 RBI's. Although not horrible numbers, he is no where near Rollins. There's been much to due about how Rollins has, at times this season, underachieved or has come up small. But Rollins is an incredible defensive player who can reach nearly every ball up the middle, making it difficult on opposing offenses to get anything by him. At the plate, Rollins is still a formidable threat — .268 average wtih 16 HR's and 63 RBI's. He is coming off a good run in September in which he batted .270 with five RBI's and two HR's.
Advantage: Philadelphia
Third Base: David Freese vs. Placido Polanco
This is a close call. Freese has been terrific for the Cardinals as of late, batting .284 with 11 RBI's in the final month of the season as he played an integral part in their postseason run. Polanco had a respectable .280 average with nine RBI's in September, as well. The two finished their seasons off on a high note, and both are expected to keep their hot bats going in to the postseason. Because of his vulnerability to injury, Polanco still remains a question in this lineup, although he has been improving as of late. But Freese played such an important part to St. Louis down the stretch, that the advantage in this debate goes to Freese.
Advantage: St. Louis
Outfield: Lance Berkman/Matt Holliday/John Jay vs. Hunter Pence/Raul Ibanez/Shane Victorino
There's certainly going to be a great display of outfielders in this series. Five of the six starting outfielders all have been named an All-Star at some point in their respective careers, while players such as Berkman and Pence have found success in new homes in 2011. Berkman has rejuvenated his career in St. Louis, batting over .300 with 30+ HR's and nearly 100 RBI's, while Pence has been nothing-but-spectacular in the city of Brotherly Love, finishing the season with a team-high .314 average with 97 RBI's. Victorino has done a terrific job in 2011, as well, providing the Phillies with the swagger and momentum boosters throughout the season. He was batting near the .300 mark for nearly all of the season before a dismal .186 average in the final month of the season. Holliday is another fantastic outfielder and has been reliable as Pujols' protection in the lineup, just as Pence has done with Howard this season. However, Holliday's status is still unclear as he is dealing with an injury to his finger (he will not play in Game 1). As for the two other outfielders, Jay and Ibanez, both contribute in different ways. Ibanez is more of a power option (20  HR's, 84 RBI's) whereas Jay is a .297 hitter with 56 runs. The mystery that surrounds Holliday's health definitely impacts the Cardinals' lineup, especially when it comes to protecting Pujols in the five-spot.
Advantage: Philadelphia
Pitching Staffs: Roy Halladay/Cliff Lee/Cole Hamels vs. Chris Carpenter/Kyle Lohse/Edwin Jackson/Jaime Garcia
Well, this isn't even close. The Phillies feature three Cy Young-type pitchers (and Roy Oswalt) and all three of them have proven to elevate their performance level in the postseason. Halladay has been dominant once again, collecting 19 wins and 220 strikeouts this season, while Lee set a career-high in strikeouts with 238. As for Hamels, he quietly went about his business behind his two fellow aces, recording a a 14-9 record with 194 strikeouts. The Cardinals have a respectable rotation with Carpenter leading the way, but they are no where near that of Philadelphia. Carpenter has had a down year so far, amassing a 11-9 record with a 3.45 ERA. Lohse, the starter for Game 1, has been a great option for the Cards in 2011 as he has compiled a team-high 14 wins a 3.39 ERA. Garcia has been very successful against the Phillies in his career, amassing a a sub-par 2.00 ERA while allowing a sub-.200 average.
Advantage: Philadelphia